The Barracuda CloudGen Firewall Status page displays the status of all current licenses. To get the newest licenses and subscription updates, you can query the Barracuda Online database.
Install or Update a License
To install a new license on the firewall, or to request a subscription update,
Go to Basic > Status.
In the Security Subscription Status section, click Query Barracuda Online for new Licenses next to Activation State.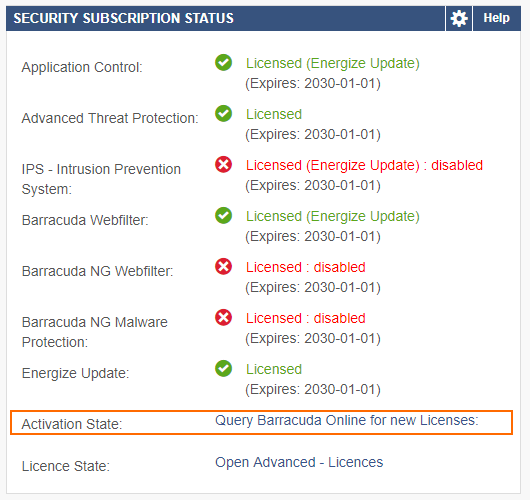 Available subscriptions for all modules get updated and you can see the information on the Security Subscription Status and/or Licenses page. To refresh the display view, click the cogwheel icon on the top right of the element and select Refresh.
View the License Status
To view all available licenses, open the Licenses page. Click Open Advanced - Licences next to Licence State, or go to Advanced > Licenses.
The Licenses page displays the following details:
Active Licenses
The Active Licenses section displays the licenses currently activated on the firewall. Active licenses are indicated by a green tick.

To see which modules are covered by a license, click + next to the license.
The table shows the following information:
Name – The name of the license.
Module – The module(s) covered by the respective license.
License – The license identification.
Expires – The expiration date of the license.
HostID – The ID of the host the license is attached to.
Status – The current status of the license.
Security Subscriptions
The Security Subscriptions section shows whether a special security subscription has been purchased for the firewall. Purchased subscriptions are indicated by a green tick, unpurchased subscriptions by a red cross icon.
The following security subscriptions are available:
To trigger an update, click Update in the respective section.
Version Status
The Version Status section displays the modules which version is essential for the functioning on the firewall.

The table lists the following information:
Module – The name of the module.
Type – The type of the module.
Version – The version number of the module.
Status – The current status of the module.
Comment – Additional information about the module.