Requirements:
Note that Barracuda Archive Search supports Touch ID on iPhone and iPad.
Secure Connectivity
The Barracuda Archive Search mobile application requires secure (HTTPS) connectivity to the Barracuda Message Archiver. If an insecure (HTTP) connection is attempted the mobile application is redirected to use https: with the configured secure port.
For existing mobile application users, if your URI was originally set up on an earlier firmware version, verify that the URI uses HTTPS. If the URI was set up using HTTP, use the steps in the section Configuration to update the URI. If the URI is not updated, users are automatically redirected to the secure, HTTPS protocol. This redirection may require an update to your network firewall rules to allow connectivity to complete on the secure port.
Certificates
When using HTTPS connectivity, if a self-signed or private certificate is in place on the Barracuda Message Archiver, your mobile phone operating system (OS) may require you to accept the private certificate before you can download content with the mobile OS download utility. The mechanism to add a private certificate to your mobile device varies; please consult your manufacturer instructions for more information.
If the mobile application encounters an untrusted certificate, a warning message displays: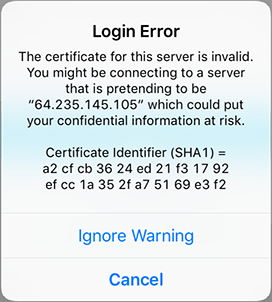 This error may indicate that someone is trying to intercept your communications with the server, or that your server has not been configured with a valid, trusted certificate:
Cancel – Click Cancel and verify the certificate with your server administrator before putting your credentials at risk.
Ignore Warning – If you connect from a trusted network and can verify the identity of the server, click Ignore Warning

to log in normally.
Actions
Archive Search allows you to perform various actions with your messages that are stored on your organization's Barracuda Message Archiver including:
Search for archived messages based on email content, or constrain the search to a date range, a specific sender or recipient, or subject line content;
Search deleted messages and emails no longer visible in your mail application;
View and interact with (Reply, Reply All, Forward, Resend to Me) archived messages.
These actions are available directly from your iPhone, iPod Touch, or iPad, allowing transparent access to, and interaction with, your archived messages.
Configuration
To search your archived mail from your iPhone or other supported device, you must first enter your organization's Barracuda Message Archiver settings, as well as your email address and password. Verify you have the following before getting started:
Barracuda Message Archiver hostname or IP address;
Barracuda Message Archiver HTTPS port number;
Your corporate email address from which messages are archived and associated password.
If you attempt to search archived messages before configuring the settings, an error displays.
Use the following steps to get started:
Before you can set up Archived Mail, you need your Barracuda Message Archiver URI from your system administrator. For example:

https://archiver.company.com:443

Launch Archive Search, and tap Barracuda Message Archiver in the Welcome page:

The Setup screen displays.
Tap in the Host field, and enter your organization's hostname or IP address. For example, enter:


https://archiver.company.com


or:


192.168.200.200

Tap in the Port field and enter the HTTPS port number. For example, enter: 443

In the Email field, tap and enter your email address from which to access archived messages. For example, enter: myname@company.com

Tap in the Password field, and enter your password for the specified email address.
Confirm your settings, and tap Save at the top of the screen.
Search for Archived Messages
Once configuration is complete, you can begin searching your archived emails.
Launch Archive Search, and enter your Barracuda Message Archiver login credentials:

Tap SIGN IN; the Search page displays.
Tap in the desired search criteria field to display the keypad:


 

Use the keypad to enter the desired keyword or search string (based on Table 1 and Table 2 that follow); you must enter at least one keyword to perform a search. Keywords must be alpha-numeric characters, and are not case sensitive. Additionally, you can use wildcards to represent one or more other characters to use search patterns.

Once you specify the keyword and select the search criteria, tap Search to display the first 100 messages matching your search criteria, or tap Cancel to clear the fields and enter a new keyword or search string.

Tap the Star () icon to the right of a message in the search results to save the message to History.


 
Table 1. Search Criteria.
| Criteria | Description |
| --- | --- |
| All | Returns all messages that contain the search string anywhere in the From field, subject line, or email content. |
| Subject | Returns messages that contain the keyword only in the subject line. |
| From | Returns messages that contain the keyword only in the From field. |
| To | Returns messages that contain the keyword only in the To field. |
| Advanced | Restrict the results to a predefined date range. Only those emails sent within the specified date(s) are returned in the search. |
Table 2. Wildcards.
| Wildcard Symbol | Represents |
| --- | --- |
| ? (single question mark) | Specifies a single alphanumeric character. Question marks can be appended to search for a specific number of characters, for example, a???a returns five letter words that starts and ends with "a" or "A". |
| * (asterisk) | Specifies zero or more alphanumeric characters. For example, pl* returns "plane", "planning", etc. |
Search Date Range
To specify a specific date range in which to search, tap in the Search field to display the keypad. Tap in the Date field and select the desired date range, or select Anytime to search all dates. Tap Search to display the first 100 messages matching your search criteria. 
Message Results
All messages matching the specified criteria display in the search results: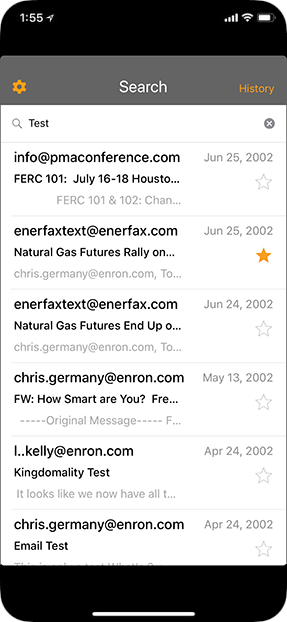 Reply to and Forward Archived Messages
Once you have completed a search of your archived messages, you can view the message, reply to the message, or forward the message.
Tap on a message to display the full content in the window
Tap the Actions () icon to view the available actions on a message:


Reply – Sends an email response only to the message originator
Reply All – Sends an email response to the message originator and all recipients
Forward – Send a copy of the archived message to one or more new email addresses
Resend to Me – Send a copy of the archived message to your email address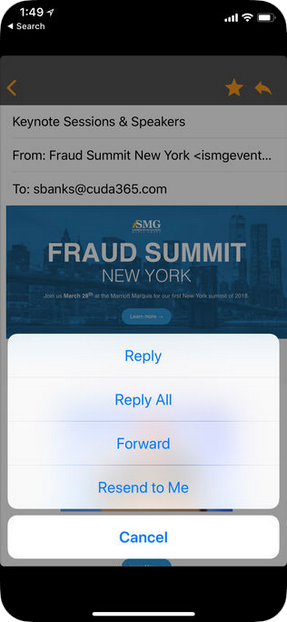 Saved Search
Once you run a search, tap the Star (

) icon to save that message and add the search criteria to your History. To access a saved search, tap History in the toolbar, and tap on the search you want to run. Tap the 

icon to the right of the To/From fields to take the following additional actions on a saved search:
Search – Tap to run the search again
Pin – Keeps the search in view until you tap the pin toggle off
Edit – Displays the search criteria and allows you to edit rerun the new search
Remove – Deletes the saved search from your History