Suppose you have connected three Barracuda Web Security Gateway to the Barracuda Control Server and you want to run a report aggregating a list of users by bandwidth across all three devices. You assume all three devices are up and running. Run the report by clicking on the group of Barracuda Web Security Gateway from the Cloud Control pane. Select the Users by Bandwidth report from the BASIC > Reports page.
Figure 1. Data aggregated across multiple Barracuda Web Security Gateway.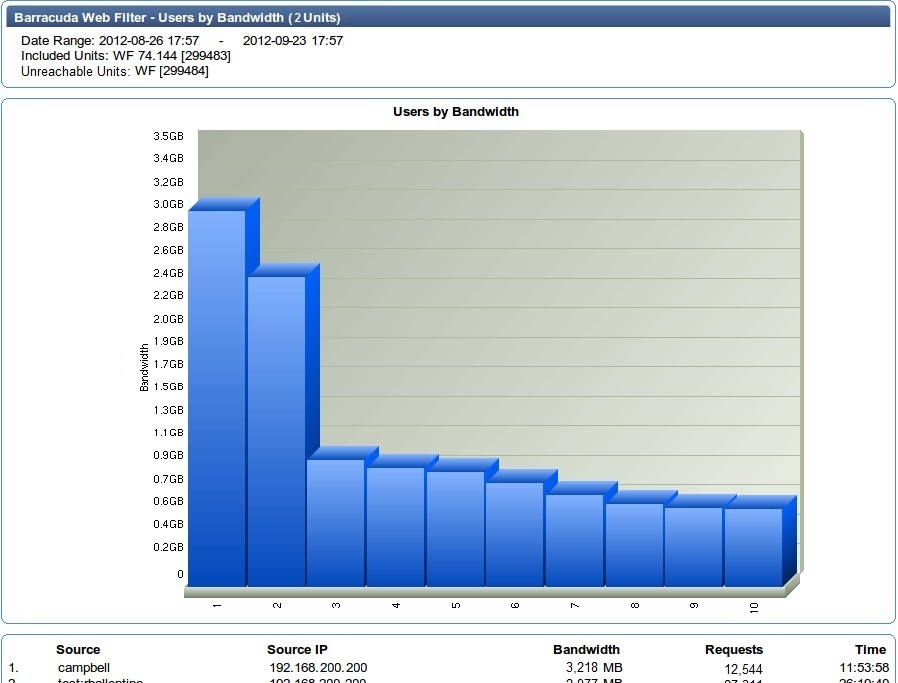 As shown in Figure 1, for the Barracuda Web Security Gateway listed at the top of the report, an aggregated list of users shows in the table below the graph, sorted by the user with the most bandwidth used for the report time frame shown at the top. For more details about reports, see the Barracuda Web Filter online help on the BASIC > Reports page.
Problem: In the report in Figure 1, you can see by the highlighted devices that two of the Barracuda Web Security Gateway have data included in the report, but one of the three devices was unreachable by the Barracuda Control Server. This is an alert that there might be a power outage or network issue where that device is located.
Solution: Try logging into the web interface directly for the Barracuda Web Filter that was unreachable. If you can, then you can use the troubleshooting features on the ADVANCED > Troubleshooting page for that device, or you can open a support tunnel from the same page and call Barracuda Networks Technical Support if necessary. If you cannot log in directly from the web interface, you check the physical device.