SSL VPN Network Access Control (NAC) limits access to the web portals of the SSL VPN service according to a variety of factors based on attributes of the connecting device. Users who fail the NAC check are not allowed to log in until they have a conforming system. You can define exceptions for each category. Use exceptions to allow/block specific versions denied in the NAC block list. For example, to allow only Windows 7 to connect: Block all Windows operating systems in the NAC block list and then add an exception for Windows 7. NAC settings do not apply to clients connecting via CudaLaunch. The following parameters are evaluated by the SSL VPN service when the user logs in:
Desktop operating systems
Mobile operating systems
Desktop browser types and versions
Browser plugins
Mobile browser types and versions
Before you begin
Enable and configure SSL VPN on the firewall. For more information, see How to Enable SSL VPN and CudaLaunch.
Configure the NAC block list
Go to the VPN > SSL VPN page and click the NAC tab.

Set

Enable NAC

to

Yes

.

For each parameter, select the versions that should be blocked. Select

None

to not block according to this criteria.

(optional) Configure NAC exceptions

to block or deny an entire category.

(optional) In the

Exceptions

section, click

Add NAC Exceptions

.

The Add NAC Exceptions

window opens.

Enter a

Name

for the exception.

Select the

Access

policy.

Select the exception

Type

.

The subtype for the selected

Type

is displayed. For example, the mobile browser type if you selected

Mobile Browser

as the

Exception Type

.

Select the Subtype and Version

for the exception type you previously selected.

Click

Save

.

Click

Save

.
All users accessing the SSL VPN web portals must now conform to the requirements set in the NAC block list. When a user logs in with a device that fails one or more of the server-side NAC checks, the following block pages are displayed: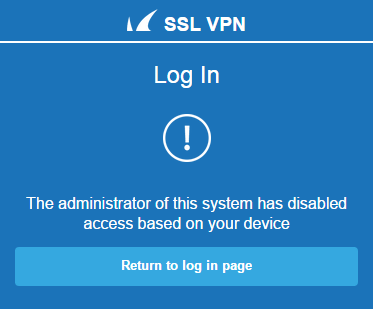 Check the sslvpn log file to find out which NAC block rule caused the user to be rejected. For more information, see Viewing Logs.