The SSL VPN web portal provides easy access to your organization's web resources via the web browser on your desktop or mobile device. The SSL VPN web portal's responsive interface automatically detects and adapts to the screen size and, for mobile, the screen orientation of the connection device.
Before you begin
Both JavaScript and cookies must be enabled on your device to use the SSL VPN web portal.
SSL VPN web portal

The web portal arranges all available web resources into the following tabs, accessible via the interface service bar:
Favorites – Contains the shortcuts to resources for quick access.
Apps – Contains all configured web and Outlook Web Access resources.
Folders – Contains the folders made available via the

NextGen Firewall SSL VPN

.
Logging into the web portal
In your web browser, go to https://<Listening IP address or hostname used for the SSL VPN service>.
Enter your username and password.
Click Log in.
Changing language settings
You can change the display language for your SSL VPN web portal on the Settings page. To do so, click on the options icon on the top left and select Settings.


Launching resources
The Apps tab contains all web resources. To launch a resource from the Apps screen, click the icon associated with it.

The web resource launches, and you are redirected to the application page.
Searching folders and favorites
Click the Apps, Folders, or Favorites tab to access the web resources. To search for a specific item, type the name of the item in the search field with the looking glass icon.

Adding favorites
On the Favorites page, you can store web resource shortcuts for easier access. Click the Favorites tab. To add a web resource to the favorites, click the + icon.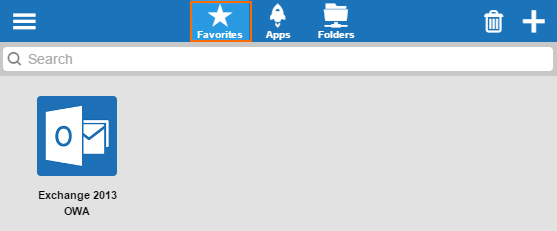 Select the item you want to add from the list, and click the checkmark icon. The resource you have added is now visible under the Favorites tab.

To remove a resource from the favorites list, click the Favorites tab and then click the trash can symbol.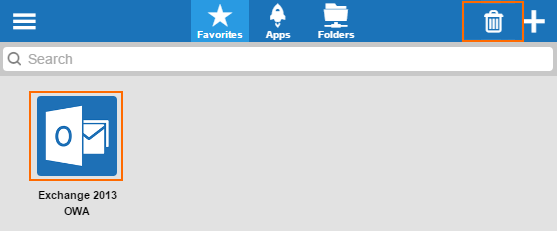 Select the shortcut, and then click the checkmark icon.

Setting user attributes
User attributes are user-specific placeholder values used for web forwards. User attributes can be filled/changed in the options menu. When a web forward is launched the first time, the user is requested to fill in the user attributes. To fill in or change a user attribute, click Settings in the Option menu, and click on Personal Information to see a list of the user attributes for your user. User attributes are used for single-sign on when different credentials are required.

For more information, see How to Use and Create Attributes.
Logging off
To log out of the SSL VPN web portal, expand the options menu on the top left, and then select Log Out.