This article explains the basic operation of devices in the Cisco 7900 Series IP telephone series.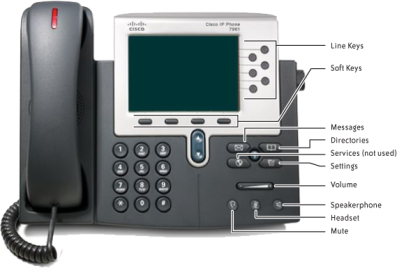 Soft Keys
The four buttons immediately below the LCD display are soft keys.

Each soft key performs the action displayed immediately above it.

Soft key behavior is context sensitive – actions associated with a soft key change according to the current phone state.
Place a Call
Lift handset, press the speakerphone button or headset button.

Dial the number.

For last number redial, press the Redial soft key.
Voicemail Access
To access voicemail messages, press the Messages soft key.

Depending on your system configuration, you may be prompted for a voicemail PIN.
Call Hold
To place an existing call on hold, press the Hold soft key.

To resume the call, press the Resume soft key.

If multiple calls are on hold, press the appropriate line key before pressing 

Resume

.
Call Transfer
During a call, press the Transfer soft key.

Dial the destination number.

If the party answers, announce the caller.

Then press the Transfer soft key to complete the transfer.

If the destination number is not answered, press the End Call soft key and the Resume soft key to return to the original caller.
Do Not Disturb
Press the DND key. Calls will no longer be audible.

Press the DND key again to remove Do Not Disturb.
This feature is only available on models 7941 and 7961. (It is not available on models 7940 and 7960.) 
Ringer and Handset Volume
To change the ringer volume, while your phone is idle, press the Volume keys.

To change the call volume, during an active call, press the Volume keys to change the volume of the handset, speakerphone, or headset, whichever is active.
Directories
To view missed, received, or placed calls, press the Directories button.

Scroll to the directory you want to view.

Press the Select soft key.

To place a call to a phone number in the directory, select it and press the Dial soft key.