This article describes an optional Barracuda add-in (plug-in) for Microsoft Office which enables you to dial a contact from within Outlook 2010, 2013, and 2016 for Windows.
Prerequisite: You must have an endpoint registered to the user that wants to use the add-in.
Currently Released Version: 1.0.18.0
Obtaining the
Add
-In
To obtain the Click-to-Dial Outlook Add-In:
Log into your portal and navigate to the Add-Ins page.


Locate the link to download this add-in.

Continue with the installation process, as described in the next section.
Installing the Add-In
Before beginning the installation process, exit Outlook. The installer will prompt you to exit Outlook if you haven't already.
You will need the following information to install the add-in:
The hostname or IP address of the Barracuda Phone System
Primary Extension Number
PIN
Outlook opens automatically when this installation is complete.
Using the Click-to-Dial
Add
-In
Launching the Call Control Center from Outlook
After you install the Click-to-Dial Add-in, the Launch CCC button appears in the Barracuda Networks section of the Outlook ribbon.

Click Launch CCC to open the Communication Command Center conveniently from within Outlook.
Refer to Barracuda Phone System User Portal - Communication Command Center for details on using the CCC.
Dialing a Contact
Anywhere you see a contact in Outlook – within the contacts, in an email, or in a meeting request – you can click the contact's name to dial their number.
Locate the desired contact and right-click the contact's name.
In the pop-up menu, select Call Contact, then select the desired phone number.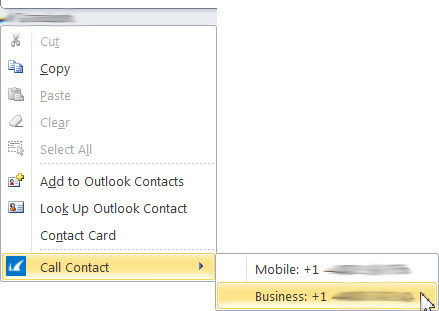 Your connected phone system will dial the selected phone number for the Outlook contact.