Use this page to configure the following for each account:
Branding block pages: Customize branding for your PDF reports and the block page displayed to users.
Option to have local DNS server resolve domains instead of the server selected by BCS Plus.
Syslog: Optionally export logs to your syslog server.

 
This page also includes a domain lookup tool by category.
Custom Branding
Logos can be formatted in .JPG, .JPEG, .JPE, .GIF, .BMP, or .SVG
Logos are constrained to a maximum height of 240px, and widths are constrained to a maximum of 240px.
File size must not exceed 100K.
Click Select File for a popup where you either can drag a logo file, or click Select File to browse your local network or drive for a file. Click Upload.
Syslog Configuration
Web Filtering Component (WFC) log: Web traffic logs generated by the BCS agent Web Filtering Component (WFC), or when the Barracuda Web Security Gateway is integrated with BCS.
Chromebook
DNSproxy 

ATP
Look up Domain Category
To find the category to which a domain belongs, enter the domain name and click Look Up; the category is returned under Category Name. In this example, the domain portofmokha.com is shown to be in the  Dining or Gourmet  category.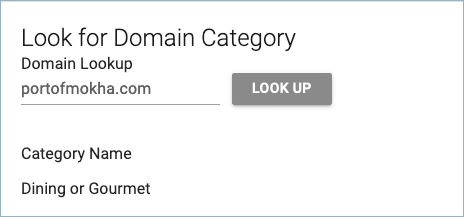 Re-categorize a Domain by Category
Use this feature to request re-categorizing a domain; i.e. reassigning it to a different category. Type the domain name in the Domain field, and the click the drop-down to select the new category for that domain. After you confirm and submit your request, the page will display the message Your request for recategorization is submitted. This does not necessarily mean the domain will be recategorized.

Time Zone
To set the time zone, see How to Set the Time Zone.