Use this page to create exemptions for certain web traffic, destination servers, or processes from filtering by the BCS agent with your BCS Plus subscription.
Exempt All Microsoft Application Traffic
Enable this feature if you want to exempt all Microsoft application traffic such as Microsoft 365, Skype, or Teams, from filtering by the BCS agent.
Define All Process Exemptions
To exempt one or more processes from scanning or filtering on the endpoint machine, enter executable names or the full path of a process in the PROCESS EXEMPTIONS text box. When specifying the path of an executable/process, make sure to use the drive letter/path or process/application name. Entries are case sensitive.
Example 1.
These entries exempt explorer.exe and c:\Desktop\Excel.exe from scanning on the endpoint: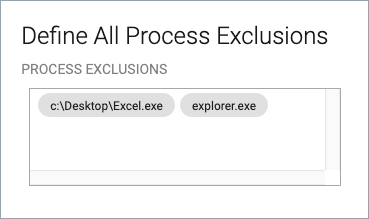 Example 2.
Say you created a block domain rule for Skype.com on the Advanced Filtering page. When the user accesses Skype.com in their browser on the endpoint, it will be blocked. When the user tries to log into the Skype app, that will also be blocked since it sends requests to Skype.com – or related URLs – which are blocked because of the Advanced Filtering policy.
If you want to allow the user to log into Skype using the app, but not via the browser, use the Process Exclusion feature to exempt skypehost.exe from the block policy. Skype.com can still be blocked on the browser, but logging into the Skype app would be successful.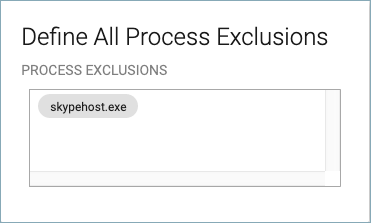 To edit or remove an exclusion you created, click on the process to select it and delete it. 
Exempt Destination Network Servers
Best practice: If there are specific local networks that you do not want the BCS agent to filter (for example, printers, VPN), add them here.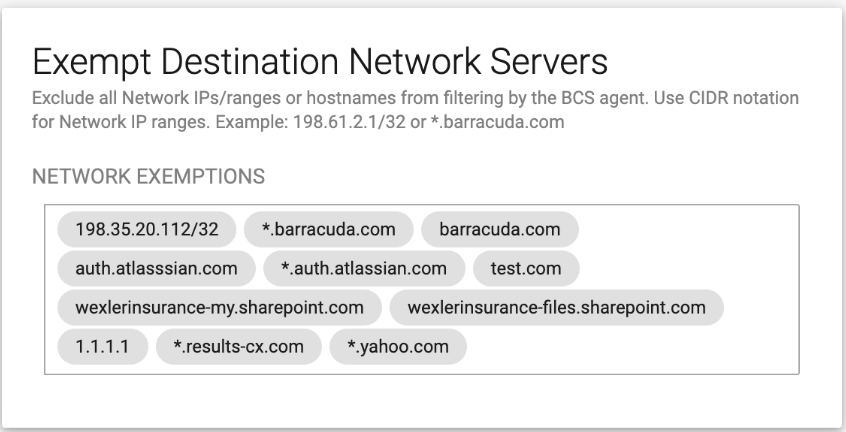 In the Exempt Destination Network Servers text box, enter each IP address or hostname to certain destination servers you want to bypass filtering by the BCS agent. For example, exempt applications like Cisco Anyconnect. Use CIDR notation – for example, 192.168.100.0/24 represents an IP address of 192.168.100.0 with a subnet mask of 255.255.255.0.
 Note that you can create network exemptions, and you can specify top level domains, like barracuda.com, or *.barracuda.com, for example. So you have the option to block all subdomains with *.barracuda.com (or any set of subdomains) and top level domains when necessary.