Use the OWA Configuration page to specify whether the Search and Retrieval Website should attempt to use Outlook Web Access (OWA) to display emails retrieved from the archive: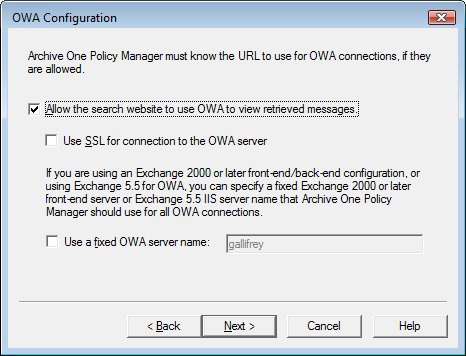 Turn on Use SSL if you require an SSL connection to your OWA service, either the server hosting the mailbox or the front-end server accordingly. If some OWA servers are configured only for SSL and some not, choose the option that is most common, and ArchiveOne will manage the exceptions.
If you select to use a fixed server for OWA, the server hosting the mailbox is used for OWA connections. If you choose to use a fixed server name, ArchiveOne Service runs checks to ensure the suitability of the server. For instance, if you have selected to use SSL, the service verifies that the OWA server has a suitable SSL certificate (for instance, that it has the same server name as the ArchiveOne Service is going to use to contact it).