Specify policy configuration settings in the Policy Definition page: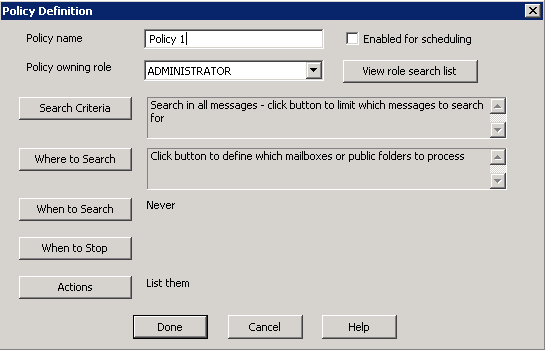 Policy name – Enter a name to identify the policy.
Policy owning role – Select the the role that owns the policy. This option is disabled if the role the user is running under does not have Change policy owner rights.
Search criteria – Specify what should be searched for, such as messages containing a particular word. If you do not specify any search criteria, all messages are returned.
Where to search – Specify which mailboxes to search. When a policy is first created, it is configured to not search

anywhere. You much specify where to search to make a valid policy.

When to search – Specify the schedule of when the ArchiveOne Service should run the policy. This is set to never by default. If you do not specify a schedule, you can run a policy by clicking Start now in the toolbar when the policy is selected on the Policies Node.
When to stop – Sets a time limit. The policy stops searching for messages

when this time limit is reached.

Understanding Policy Actions– Specify what to do with the messages found. By default, messages are listed.
Enabled for scheduling

–

Specify whether to enable policy scheduling. When disabled, the

policy does not run automatically, but can be run

by clicking

Start now in the toolbar when the policy is selected on the Policies node

. You cannot enable a policy for scheduling unless you have specified a schedule in

the When to search section.
View role search list

– Review the

list of mailboxes that the current policy owning role

can search. This list is read-only, to modify the list, see How to Define the Mailbox Search List.