The Where to Search dialog allows you to select which mailboxes or public folders are processed: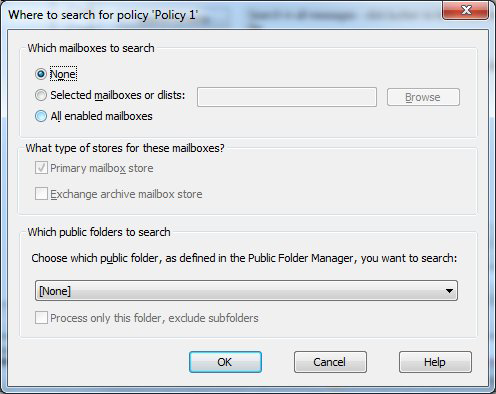 The options available in this dialog depend on the type of policy being created or edited:
For mailbox policies you can select which mailboxes defined in mailbox manager the policy applies to.

For PST policies you can select which PSTs (which have previously been discovered) the policy applies to

, or that it applies to all PSTs owned by specified mailboxes.

For journal policies you can select which journal mailboxes (identified by examining the Microsoft Exchange

configuration) the policy applies to.
Mailbox Policies
For mailbox policies, ArchiveOne processes only mailboxes that are enabled on the Mailbox Manager node. You can select distribution lists as well as mailboxes. If a subset of the members of the distribution list are enabled on the 'Mailbox Settings' page then only that subset is processed. The distribution list is remembered in the sense that if a user is added to the list, this policy also processes the added user.
If the selected mailboxes are hosted on a number of Exchange servers, ArchiveOne processes them in an order which optimizes the CPU load on these servers and the network usage. For example, ArchiveOne processes five mailboxes at a time. if the collection of mailboxes are hosted on five Exchange servers, it initially processeses one mailbox from each server at a time.
You can specify whether the primary and/or archive mailboxes are processed for the selected users.
Archive mailboxes were introduced in Exchange 2010. If you are using an earlier version of Exchange or if the user does not have an archive mailbox for their primary mailbox, then archive mailbox processing is skipped.
For more information on processing PSTs, see PST File Processing.