If the Backup Exec provider, BeVssProvider, is active or running on the target server, the backup may fail due to a VSS conflict:
If this occurs, note the time of the backup failure and check the associated time in the server's application and system event logs for possible system errors or notifications.
For example: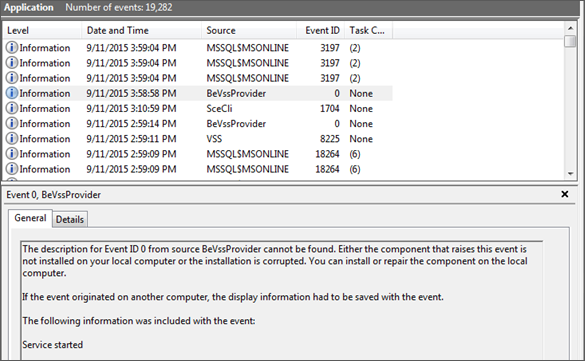 In this example, an alternate VSS provider, BeVssProvider, attempted to start, causing a conflict with the Barracuda Backup Agent.
To resolve this issue, disable or uninstall the third-party VSS provider, in the above example, BeVssProvider, or service that installed the provider. For more information, refer to the VMware knowledge base article, Cannot create quiesced snapshots if backup or system recovery applications are installed (1009558).