Console
The Console interface is a curses based interface that Barracuda Backup appliances boot into when started. Use the interface to set your locale, change network settings, enter your License Token and default domain, troubleshoot, or reload the configuration through direct physical access to the unit. To access and interact with the Console screen, you must plug a keyboard and monitor into your Barracuda Backup appliance.
Navigation
Use the keyboard commands to navigate and make changes to your Barracuda Backup settings through the Barracuda Console.
Power on the appliance, and enter your TCP/IP configuration in the black screen. Once configuration is complete, the System Configuration screen displays.
Use the Arrow keys to highlight the desired System Configuration option in the left pane.
When the desired section is highlighted, press Enter to enter edit mode.
Use the Arrow keys to navigate through the options in the right pane.

Press Enter to trigger an action button, or, if you have selected and made changes to an editable field, press Enter to move to the Save button.

Press Enter to save your changes and return to the System Configuration options in the left pane. Use the Arrow keys to highlight the next section you wish to edit.
Interface
Status
When you open the console, the Status page displays: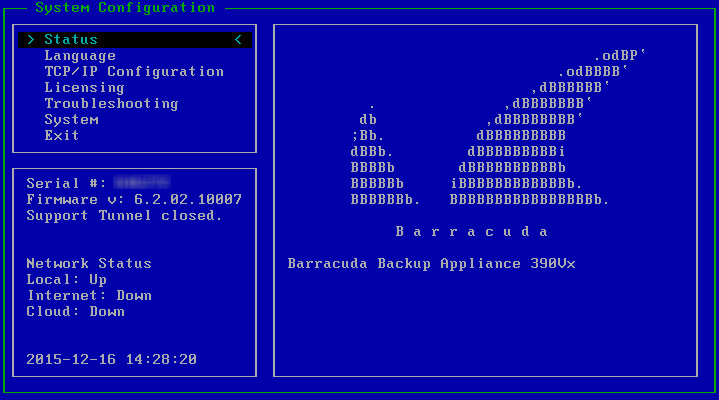 Language
Select your locale from the Language list: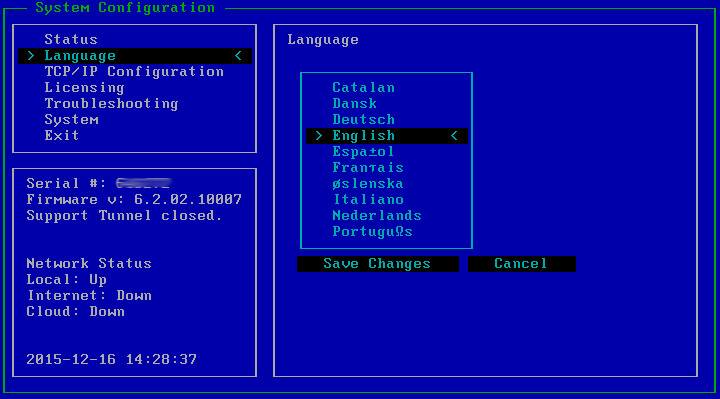 TCP/IP Configuration
Enter your TCP/IP Configuration details :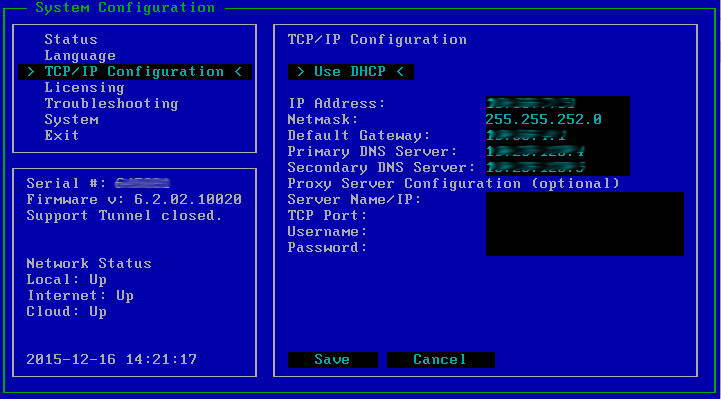 Licensing
Enter your License Token and Default Domain: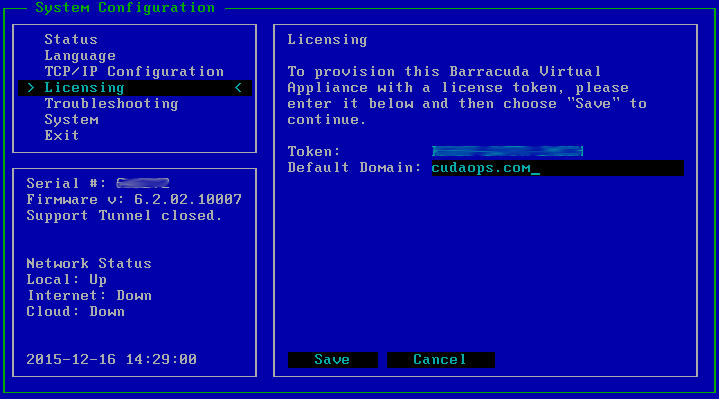 Troubleshooting
To run network Connectivity Tests, enter the Host/IP address you wish to test, and select the test you wish to run: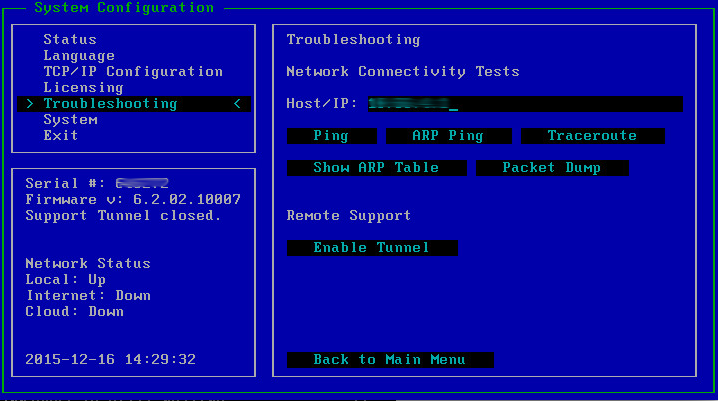 System
From the System Configuration page, you can select to Reboot or Shutdown the appliance, Reload Appliance Configuration, and Change Console Password: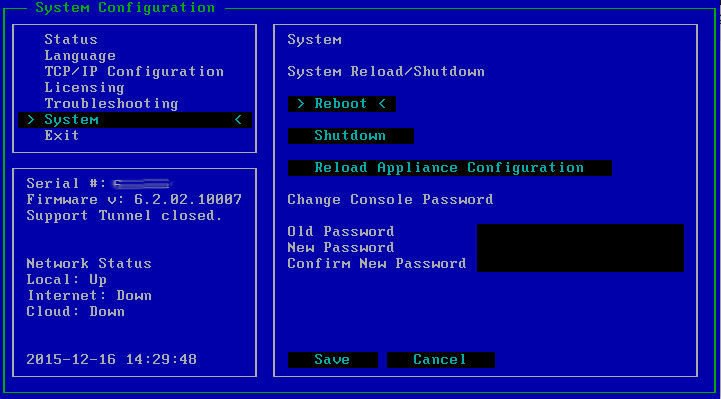 Network Settings
A Barracuda Backup appliance is considered fully online when Local, Internet, and Cloud, display as Up in the Network Status section; note that it is normal for Internet and Cloud to display as Down for locally controlled appliances: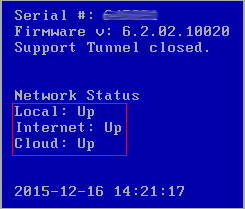 It is possible to have connectivity to the LAN and Internet but not to Barracuda Networks. This can occur if the system is not linked or if a LAN firewall is blocking the necessary outbound port 1194. Encrypted traffic is sent out across port 1194 to the Barracuda Networks management network.
If you wish to restrict the outbound network traffic on port 1194 to the Barracuda Networks specific IP range, contact Barracuda Networks Technical Support for a listing of required IP addresses to allow.
If a DHCP server is running on the network, it is an easy way to bring Barracuda Backup online. Barracuda Backup requests network IP information from the DHCP server when it boots, or after it loses network connectivity for any reason. Static IP information can be specified as well.
If you have questions about Barracuda Console, or need assistance getting your Barracuda Backup appliance online, contact Barracuda Networks Technical Support.