The Barracuda Encrypted Backup appliances are no longer available. Encryption of data at rest has been added as a standard feature to all Barracuda Backup appliances (Models 190-1090). For more information, see Data Encryption on Barracuda Backup Appliances.
Customers with a Barracuda Encrypted Backup appliance (Models 6090, 8090, 9090, 10090) will continue to be supported. If the Barracuda Encrypted Backup appliance fails, and you have an active Instant Replacement subscription, your replacement appliance will be equivalent to your current model and capacity.
This article refers to Barracuda Encrypted Backup appliances. For specifications on the Barracuda Backup appliance, see Barracuda Backup Appliance Hardware Specifications.
Secure your data against physical theft with Barracuda's hardware-encrypted purpose-built backup appliances to prevent sensitive and critical data from falling into the wrong hands if disk drives are lost or stolen.
Barracuda Encrypted Backup allows organizations to quickly and cost-effectively deploy hardware-encrypted backup appliances in their environment to protect encrypted sources and meet regulatory requirements.
Barracuda Encrypted Backup appliances help secure against data loss if disk drives are lost or stolen. The encrypted data on the disk drives is inaccessible when separated from the backup appliance – making sure it cannot be used maliciously when in the wrong hands.
Barracuda Encrypted Backup appliances use hardware encryption, avoiding the significant performance and efficiency degradation that plague software-based approaches.

Encryption models protect data with hardware-based encryption.
Communication between the RAID controller and the hard disks uses AES 128-bit encryption. However, data stored on the hard disks uses AES 256-bit encryption.

The Barracuda Encrypted Backup appliance ships with a default security/encryption key. Once you enter a new encryption key during the initial configuration, the key is known only to you; Barracuda cannot retrieve your key.

The Barracuda Encrypted Backup appliance also provides the option to configure a power-on password for additional security.
Barracuda Encrypted Backup Model 6090, 8090, 9090, and 10090 Comparison
MODEL

6090
8090

9090

10090

CAPACITY

Usable Storage Capacity

12 TB
24 TB
48 TB
96 TB

Recommended Environment

6 TB
12 TB
24 TB
48 TB

SPECIFICATIONS

Form Factor

1U

2U

3U

4U

Dimensions
(inches: W x H x D)
17.2 x 1.7 x 27.0
17.4 x 3.5 x 25.8
17.4 x 5.3 x 23.8
17.4 x 7.0 x 27.9

Weight (lbs)

24

48
68
105

Network Interface

2 x 1GB RJ45

2 x 10GB RJ45

10Gb Fiber

N/A

2-port SFP+

Disk Arrangement

4 x 6 TB
8 x 6 TB
12 x 6 TB
20 x 6 TB

Redundant Disk Array (RAID)

HW RAID 10

HW RAID 60

Dedicated Database and OS Disks

N/A

4 x 6 TB

Redundant Disk Array (OS)

N/A

HW RAID 10

Swappable Disks

Hot Swappable

Redundant Power Supplies

N/A

Hot Swappable

AC Input Current
(amps @ 120V)

1.3
2.5
3.4
6.4
Site-to-Site Replication
Sender/Receiver

FEATURES

Deployment Options

Physical Appliance, Encrypted Physical Appliance, Virtual Appliance

Offsite Replication

Remote Physical Appliance, Remote Virtual Appliance, Barracuda Cloud Storage, Amazon Web Services (AWS)

Management Interface

Barracuda Cloud Control Centralized Administration

Backup Agents

Microsoft Windows (Microsoft Server, Hyper-V, Exchange, SQL), Linus, macOS

Network Backups

Network Attached Storage (NAS)

Host-Level Virtual Environments

VMware vSphere, Microsoft Hyper-V

Guest-Level Virtual Environments
Citrix XenServer, Kernel-based Virtual Machine (KVM), Oracle VM, Red Hat Virtualization
Deduplication
Global, Inline, Block-Level, Source- and Target-Based
Rapid Recovery
LiveBoot, Cloud LiveBoot, Physical-to-Virtual (P2V), LiveBrowse
Long-Term Retention
Offsite Vaulting to Barracuda Cloud, Export to Amazon Web Services (AWS), External Disk, Tape, Autoloader, Robotic Library
For more information on calculating the power consumption in watts, see Barracuda Product Power Consumption in Watts.
Drive Layout
Barracuda Backup Models 990 and 995 Drive Layout

Barracuda Backup Model 1090 Drive Layout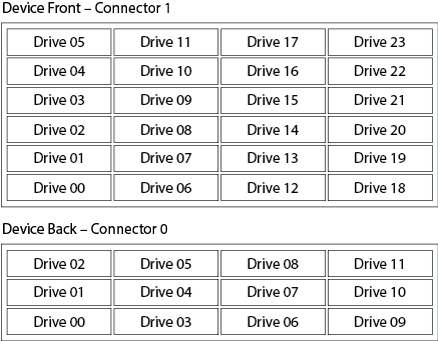 Barracuda Encrypted Backup Model 8090 Drive Layout

Barracuda Encrypted Backup Model 9090 Drive Layout
Barracuda Encrypted Backup Model Model 10090 Drive Layout