Training - Video Tutorial
This video covers the following topics:
From Dashboard to Training
The Training view
Searching for specific training videos
Learning options

Self-Paced
Classroom
Distance Learning
Where do I find self-paced online or classroom trainings?
Self-paced online learning trainings are provided for many Barracuda Networks products. You will find a list of all trainings on the Trainings page.
The training description always indicates in what format(s) the course is available.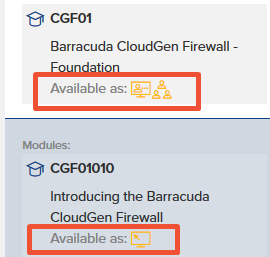 Legend:
| Icon | Course Format |
| --- | --- |
| | Classroom  |
| | Distance Learning |
| | Self-Paced |
On a training overview page (for example, https://campus.barracuda.com/product/cloudgenfirewall/learn/), select the desired course format from the Format drop-down list. This highlights all trainings available in the selected format. Trainings in other formats will be grayed out.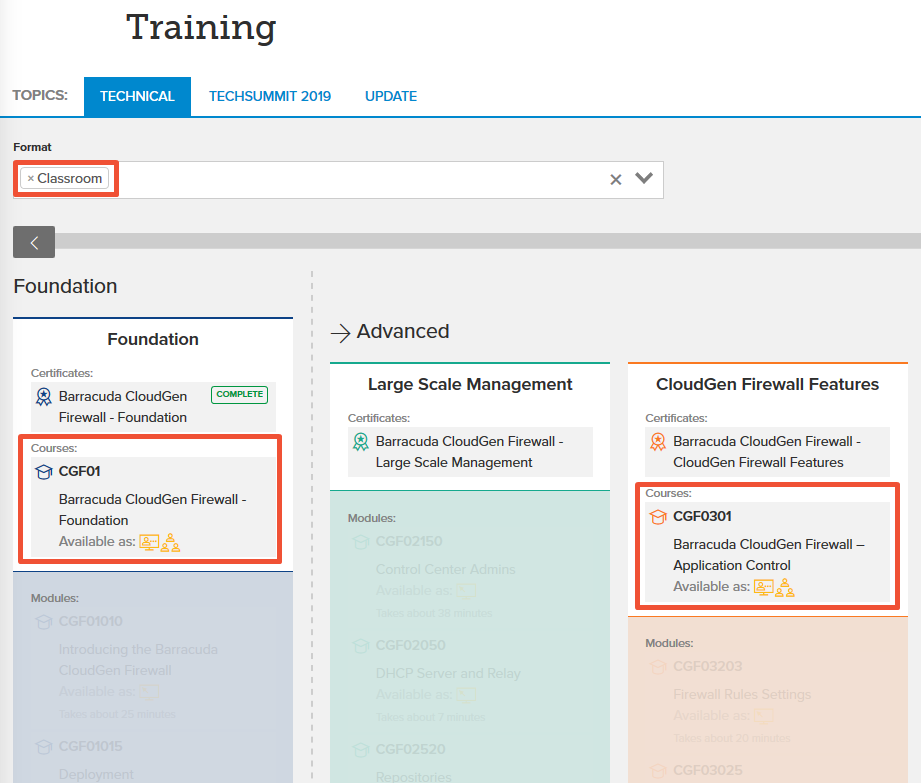 Are there prerequisites for the trainings?
Some trainings require you to complete additional certification or take additional exams. Prerequisites (if any) are listed on each course page. Simply search for a course or use the Trainings page to find the course you're interested in. On the course page you'll find detailed information about the course as well as its prerequisites.

How do I get to the course content page to see videos?
Select the module you wish to see the content for.

The course details window appears.

Click "Start Learning" under "Self-Paced".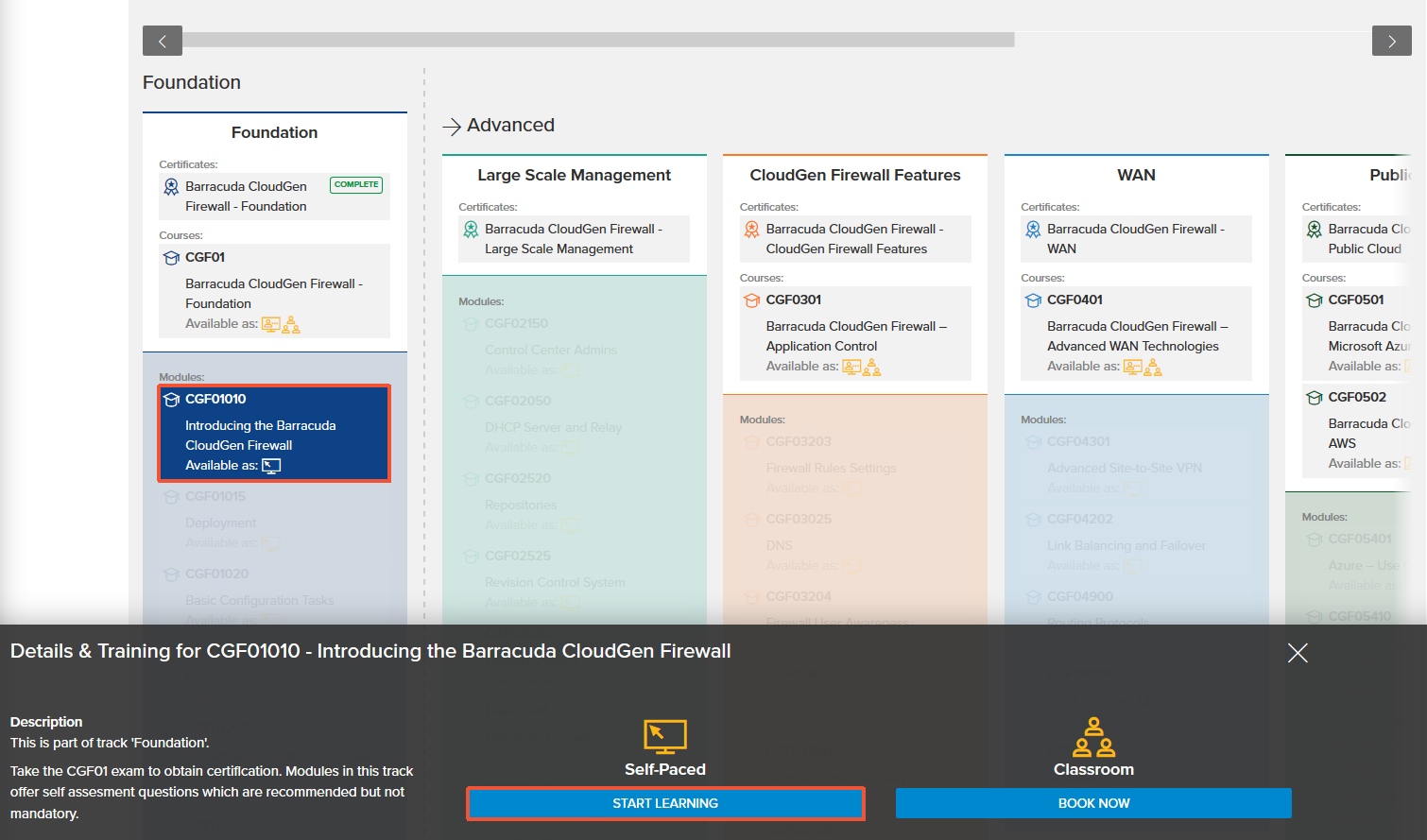 Can I see my training progress?
Yes, modules will be marked as "Complete" as soon as you have successfully completed the assessment test or exam.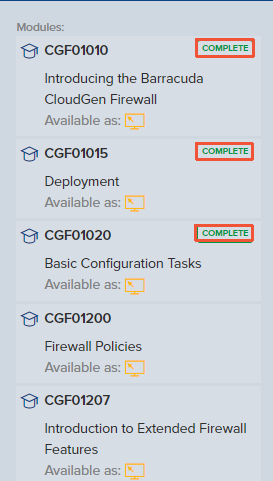 How do I register for a course?
Trainings are conducted by Barracuda Networks and its Authorized Training Centers (ATCs). To register for a course, open the course page of the course you want to register for. Note that course registration requirements may differ for individual training center locations. Registration for trainings held at Barracuda Networks Training Centers is acknowledged upon receipt of the online request. When applying for trainings conducted by ATCs, you will be directed to the respective website.

How do I cancel my registration?
Cancellation by the user is possible only for registrations for Distance Learning trainings conducted by Barracuda Networks.
To cancel your registration for a course:
Log into Barracuda Campus.
Go to  "Registrations".
Click the drop-down button next to your class registration and select "Cancel Registration".

On the following page, check your information and confirm by clicking "Cancel my registration".

Paid course registrations conducted and hosted by Barracuda Networks cannot be cancelled. For details see the "Cancellation Policy" section stated in your confirmation email. If you have any questions, please contact us.
Classroom and Distance Learning registrations conducted and hosted by an Authorized Training Center (ATC) can be cancelled only by contacting the responsible training partner. The cancellation policy of the training partner applies.
Where do I find training materials for my course?
Most training materials are available to all registered users of Barracuda Campus, Barracuda Cloud Control, and the Barracuda Partner Portal.
To find training materials for your course:
Log into Barracuda Campus.
Search for your course, or browse the Trainings page to navigate to your course.
In the right menu under "For this Course", s

elect "

Training Materials".

Click on a listed file (PDF, Video). Your download should begin automatically.


 



Training materials for my training are not listed.
In exceptional cases, training materials are restricted to attendees of a course.
To request copies of course materials for trainings that you have attended, please contact us at campus@barracuda.com or visit https://campus.barracuda.com/contact/.