Multi-factor authentication (MFA), also known as two-factor authentication, is a security feature that requires two forms of authentication to access Barracuda Cloud Control (BCC). When enabled, MFA provides an extra layer of security to your account. Even if your login credentials are stolen, without the trusted device, the attacker is unable to access the account. And if the trusted device is taken, the attacker cannot access the account without the login credentials.
When the account administrator enables the MFA requirement for all users, users should receive an email stating that MFA has been enabled and that you will need to configure MFA on your next login.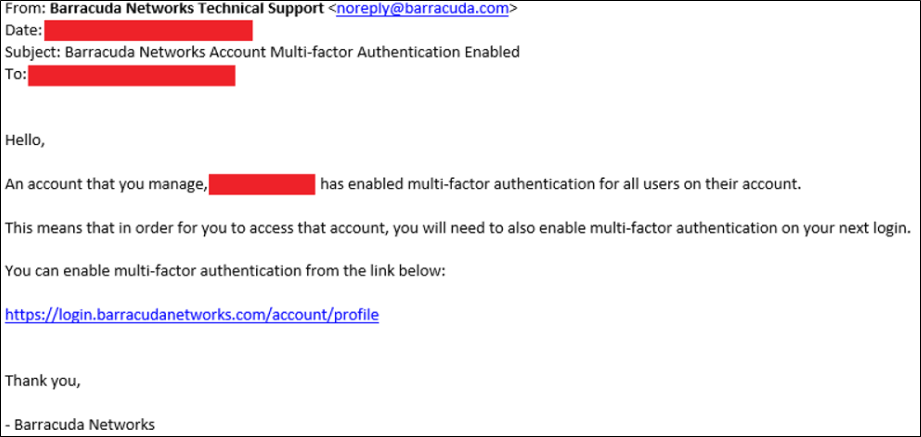 Configure Multi-Factor Authentication
To configure MFA with your BCC account, follow the steps below:
Log into https://login.barracudanetworks.com or click the link provided in your email notification (shown above). 
Enter your Email Address and Password, and then click Sign In. 
The Multi-Factor Authentication page displays.



Download and install an MFA authentication tool on your mobile device. If your organization does not require you to use a specific authentication tool, Barracuda Networks recommends using Google Authenticator.
After you install the authentication tool, create a new account if you have not already done so. After your account is created, click the '+' sign in the upper right corner of the screen if you are using Google Authenticator.
Either scan the QR code, or enter the secret code into the authentication tool on your mobile device.
On the BCC MFA set up screen, enter the Device Name and MFA Code shown on your authentication tool. Click Continue.



Your device is now added. You can see your configured trusted devices in the Multi-Factor Authentication section in your account profile page. You can also configure and delete additional devices from this page.

Log into BCC using Multi-Factor Authentication
After MFA is configured on your account, in addition to your login credentials, you will need to enter a secondary token in the Authentication Code field every time you log into BCC.
Log into https://login.barracudanetworks.com with your Email Address and Password.
Click Show Multi-Factor Authentication.



Open your authentication tool on your trusted mobile device and take note of the verification code. Enter the code into the Authentication Code field on the BCC login page, and then click Sign In.