The IPS signature database contains all signature definitions for detecting malicious network traffic.
In this article:
Check the Subscription Status
To access the IPS database, go to CONTROL > Server. The current Security Subscription status is displayed in the right pane as follows: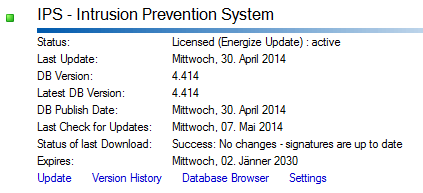 To check the IPS security subscription status, use the following options: 
Version History – Click to see changes and updates to the IPS signature database.
Database Browser – Browse the currently installed IPS database.   
Settings – Click to access the IPS Policies page: CONFIGURATION

 > Configuration Tr

ee > Box

> Virtual Servers > your virtual server > Assigned Services > Firewall
Online IPS Database Updates
You can perform an online update of the IPS database by using the following options:
Update – Triggers an immediate update of the IPS database and offers the following selections:

Check for updates – Check for available IPS database updates and install them.
Roll back to previous version – Revert the IPS database to any previously installed version.
Roll back to latest version – Revert the IPS database to the most recently installed version.
Update files are stored in the phion0/mcdownload/ips/files share. CC-managed Barracuda NG Firewalls are updated by the Barracuda NG Control Center.