The Floating Licenses page provides information about the licenses that are active and available for managed Barracuda NG Firewalls. To access the Floating Licenses page, open the Control tab and click the Floating Licenses icon in the ribbon bar.
In this article:
Information Display
If licenses are present, the information displayed on the page is divided into three status sections:
0: No License – This section lists inactive licenses with details.
1: License valid – This section lists valid licenses with details.
2: License invalid – This section lists invalid licenses with details.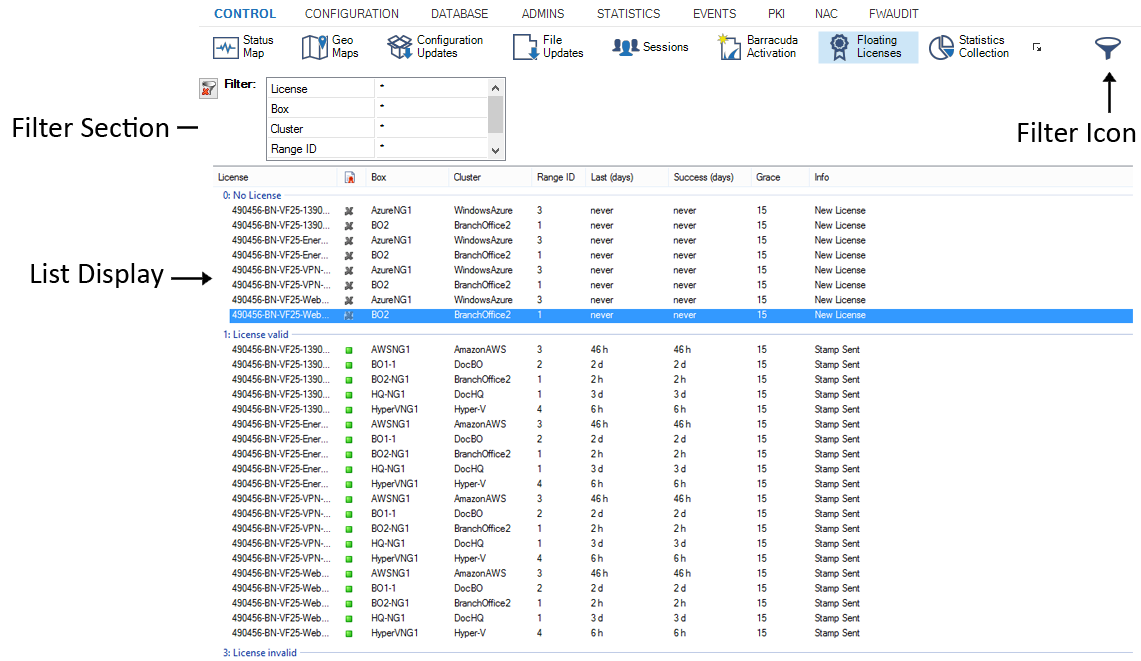 The information on the Floating Licenses page is displayed in the following columns:
License – This column shows the number of the license.
Status Icon – The license status is indicated by the following icons:

Green – The license is valid and active.
Red – The license is invalid.
Gray X – The license is inactive.

Box – The name of the Barracuda NG Firewall.
Cluster – The name of the cluster the box resides in.
Range ID – The name of the range that cluster and box belong to.
Last (days) – Number of days since an activation float was issued for the license.
Success (days) – Number of days since an activation float was successfully issued.
Grace – The amount of days for the grace period of the license.
Info – Displays information about the license activation process.
Double-clicking an entry in the list opens the Details window for the selected license.
Filter Section
The filter section is accessible by clicking the filter icon on the top right of the page. Here you can filter the list entries by license, box, cluster, range ID, or by other information. The filter is applied as soon as you click the list. To remove filter settings, click the Reset (red cross) icon.
Context Menu
Right-clicking on a list entry opens the context menu, which provides the following options:
Refresh – Refreshes the display window.
Arrange by Icons – Lets you select which columns to display in the list.
Tools – Opens a selection which lets you export the list.