The Scanner Versions page of the Barracuda NG Control Center displays detailed information about the virus scanner engines that are activated on administered Barracuda NG Firewall units. For general information on virus scanner configuration, see Virus Scanner. To access the Scanner Versions page on the Barracuda NG Control Center, open the CONTROL tab and click the Scanner Versions icon in the ribbon bar.
Information Display
The Scanner Versions window lists all Barracuda NG Firewall units together with the currently active virus scanner engine and virus scanner patterns. Date and time for the last successful update are also available.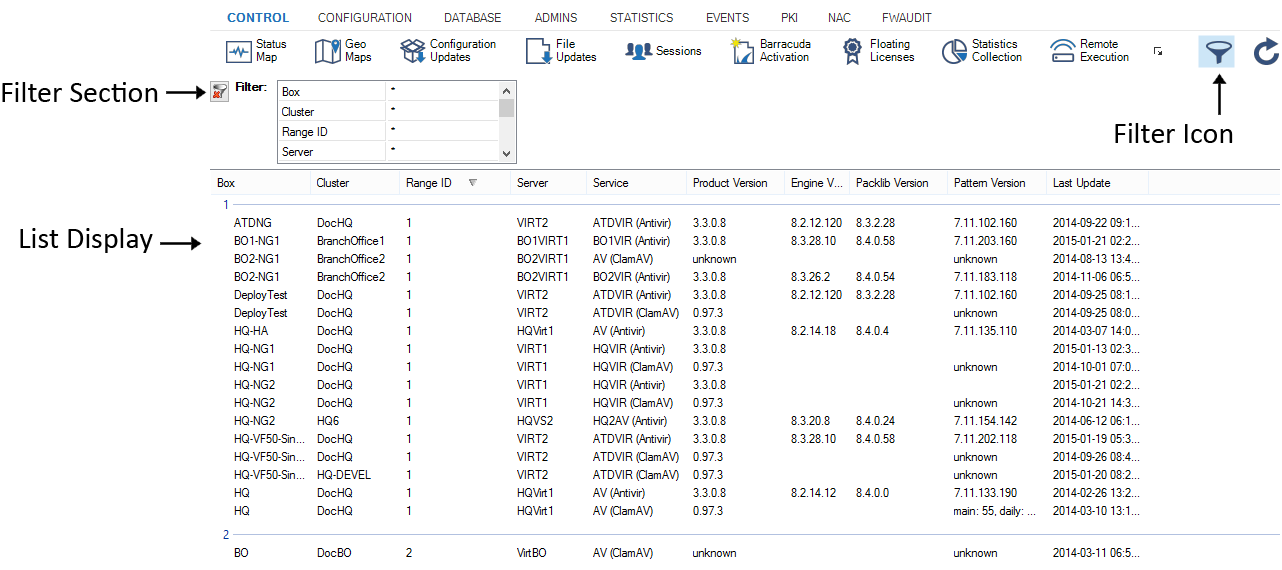 The data displayed in the columns of the page is listed as follows:
Box – The name of the CC-administered Barracuda NG Firewall unit.
Cluster – The name of the cluster the Barracuda NG Firewall box resides in.
Range ID – The range that the cluster and box belong to.
Server – The virtual server on the box.
Service – The assigned service on the box.
Product Version – The product version communicated by the box.
Engine Version – The engine version communicated by the box.
Packlib Version – The packlib version communicated by the box.
Pattern Version – The Virus Scanner pattern version communicated by the box.
Last Update – Date and time of the last update.
Filter Section
The filter section is accessible by clicking the filter icon on the top right of the page. Here you can filter the list entries by box, cluster, range ID, or by other information. The filter is applied as soon as you click the list. To remove filter settings, click the Reset (red cross) icon.
Deleting Entries from the Database
After moving or renaming a virus scanner service, old entries can still be displayed on the Scanner Versions page. You can delete the following file on the Barracuda NG Control Center box using the command: rm /var/phion/run/virscan/avirastates.sqlite3db