Limited network resources make bandwidth prioritization a necessity. The Barracuda NextGen Firewall F-Series enables traffic shaping to prioritize network resources according to a number of factors such as time of day, application type and user identity. Traffic shaping supports the following features:
Data Traffic Classification

–

Classify traffic into different bandwidth allocation priorities.
Traffic Prioritization

–

Increase the bandwidth and lower the latency of important traffic.
Bandwidth Partition

–

Specify bandwidth limits for certain traffic types.
Network Overflow Protection

–

Prevent protocols without flow control mechanisms from congesting the network.
Dynamically Adjusted Shaping

–

Adjust traffic to dynamic factors such as time of day or download volume.
Shaping of VPN Transports – Adjust VPN tunnel settings to make sure remote locations are assigned enough bandwidth for business critical web applications.

In addition to security classification, you can use the access rule set to classify network traffic for traffic shaping. Classification by the access rule set is static - it does not change after the session is initiated unless you select the session in the rule set and change the QoS band. For classification according to dynamic factors such as the time of day or download volume, the Barracuda NextGen Firewall F-Series provides the QoS profile. To connect the rule-based static classification (session) and traffic shaping, the QoS band is used.
Network data can be shaped in the following ways:
Outbound shaping

–

The traffic is shaped before it is delivered to a network interface.
Inbound shaping

–

The traffic is shaped after it is received by a network interface.

To specify the bandwidth ratio of the traffic being propagated by a virtual node, you can select three priorities: class1, class2, and class3. For high priority traffic that should not be restricted to a bandwidth limit, you can assign the NoDelay priority. The NoDelay priority should only be used in well defined circumstances, to avoid crowding out the other traffic.
The bandwidth ratio is enforced in two steps:
Virtual Interfaces: Depending on the source, traffic is assigned and processed by the assigned virtual interface. Traffic is shaped according to the bandwidth ratios set for each interface.

This does not apply to

NoDelay

priority.

Virtual Root Interface: The virtual root interface is used to ensure that the combined traffic from all virtual interfaces do not exceed the global limits.
Example Setup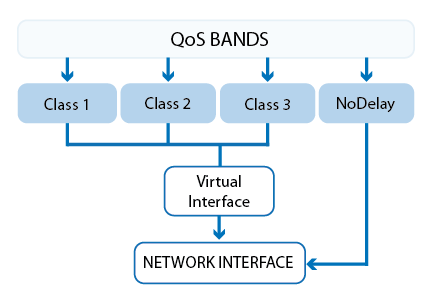 Traffic Prioritization
The QoS band evaluates and prioritizes traffic (high, medium, or low). It continually evaluates an IP packet's ToS (type of service), current data volume, and the absolute time domain. With QoS bands, you can construct routing-dependent traffic shaping schemes. For example, you can configure an Internet connection in normal and fallback (ISDN) operation. For more information, see the Traffic Shaping examples.
Access Rules
In order to use a shaping connector, you must refer to it in a access rule. In the rule configuration, you can select between forward and reverse: