On the Sessions page, you can view a list of active sessions on the Barracuda NextGen Firewall F-Series. To access the Sessions page, open the CONTROL tab and click the Sessions icon in the ribbon bar.
Information Display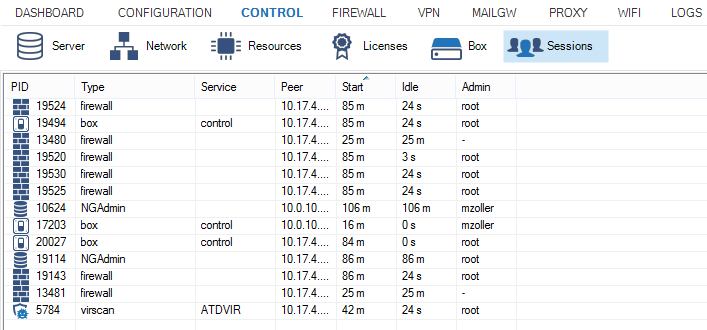 Information for each session is divided into the following columns:
PID – The process ID (PID).
Type – The service type. (The type of service is also indicated by an icon next to the PID.)
Service – The service name.
Peer – The IP address from where the session was started.
Start – The period that has passed since the session has started.
Idle – The length of time that the session has been idle.
Admin – The name of the administrative account that has logged into the session.
You can terminate a session in this list by right-clicking it and selecting Kill Session.