The CONTROL > File Updates page provides an overview of the configuration file update status of available boxes administered by the Barracuda NextGen Control Center. From here, you can manage file downloads for all managed NextGen Firewall F-Series firewalls and for the NextGen Control Center. You can also configure download settings for the updates. To access this page, open the CONTROL tab and click the File Updates icon in the ribbon bar.
Information Display
The File Updates page shows the managed Barracuda NextGen Firewalls on which file updates were performed, displays the update status, and lists the update files.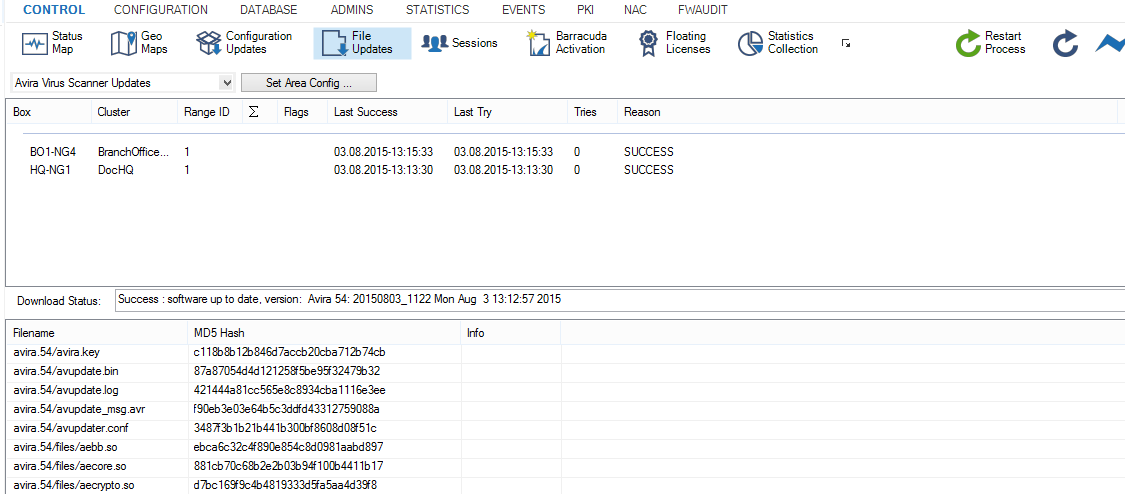 Area Configuration
The area configuration dropdown list provides update settings for various firewall features, such as App ID definitions, IPS pattern updates, and SSL VPN templates. To configure update settings, select the section from the dropdown list and click Set Area Config.

Status List
The status list in the upper section of the File Updates page shows the managed Barracuda NextGen Firewall F-Series firewalls and displays the configuration update status divided into the following columns:

Box / Cluster / Range ID – These columns display the

name

of the updated unit, and the cluster and range it belongs to.

Flags – The update status can be verified in the Flags column.

| | | |
| --- | --- | --- |
| Flag | Description | Comment |
| C | Complete Update | A full update with the complete configuration has been applied. |
| E | Update Error | Last update was not successful. |
| F | Force Update | The last update was forced, thereby overriding the internal scheduler. |
| U | Untrusted Update | Box and CC have not exchanged authentication data and, thus, have not approved trustworthiness. |
| T | Update Terminated | Update has terminated. |
| B | Update Blocked | Updates are blocked. |
| P | Update Pending | PAR file is ready to be sent. |
| S | Update Scheduled | Update has been scheduled. |
| A | Update Active | Update process is active. |

Last Success – Date and time of the last successful configuration update (the syntax used is dd.mm.yyyy-hh:mm:ss).
Last Try – Date and time of the last attempt to update a configuration.
Tries – Number of attempts to update the configuration of a Barracuda NextGen Firewall F-Series.

Reason – Displays the status message (for example, the reason for a failed update).
Double-clicking an entry opens the Detail window that shows the download details and if the process was successful.
Available Actions
Right-clicking an entry offers the following actions:
Refresh – Triggers a refresh of the update download process.

Restart Process – Restarts the update download process.

Update Now – Triggers an immediate box update.
Complete Update – Triggers the sending of the entire box configuration to the box (not only the modified part of it).
Block Update – Disables the possibility of performing a box update.
Unblock Update – Enables scheduling of updates.
Initiate Download – Starts the update download process.
Arrange Icons By – Allows reordering the status list columns.
Tools – Offers the standard list context menu.
Information Bar
The information bar in the middle of the File Updates page shows the current download status and displays update information such as feature version and date.

File List
The file list in the lower section of the File Updates page shows all downloaded files and displays the following information:
Filename – Name and path of the downloaded file

MD5 Hash – Unique hash key

of the downloaded file

Info

– Optional information