The F-Series Firewall can act as the router in the IPv6 stateful autoconfiguration process. The firewall answers the router solicitation request on the link local address of the interface and instructs the client to retrieve the rest of the configuration parameters from a DHCPv6 server.
The firewall itself cannot use IPv6 autoconfiguration to determine its box level IP address. Only static IPv6 addresses are supported on box level.
Before You Begin
Step.1 Configure IPv6 Stateful Autoconfiguration
Go to CONFIGURATION > Configuration Tree > Box > Virtual Servers > your virtual server > Assigned Services > Firewall > Forwarding Settings.
In the left menu, click IPv6 Autoconfig.
In the left menu, expand Configuration Mode and click Show Advanced View.
Click Lock.
From the IPv6 Client Autoconfiguration list, select Yes. 
Click + to add a prefix to the IPv6 Prefixes. The IPv6 Prefixes windows opens.
Enter a Name and click OK.
Configure the IPv6 Prefix:


Used Prefix – Select an IPv6 prefix that is already configured on the firewall, or a DHCP link configured for prefix delegation, or choose explicit.
Autonomous – Select on for the firewall to send router advertisements. 

DNS Servers – Click + and enter the DNS server IP addresses.

Domain Name –  Enter the domain name.

Click OK.
Click + to add an entry to the Interface Options. The Interface Options window opens.
Configure the IPv6 interface options:

Interface – Enter the interface. E.g., eth0
Default Preference – Set the preferences to be higher than the other IPv6 routers in the network. Default: Medium.
MaxRtrAdvInterval – Enter the number of seconds allowed between unsolicited multicast router advertisements.
OtherConfigFlag – Set to on to retrieve settings not sent via the router advertisement from the DHCP server.
ManagedFlag – Set to on to retrieve the IPv6 address from the DHCP server.

Click OK.
Click Send Changes and Activate.
Step 2. Configure DHCP Server for IPv6
Configure an IPv6 address pool for the DHCP server to dynamically assign IP addresses from the IPv6 prefix configured in step1.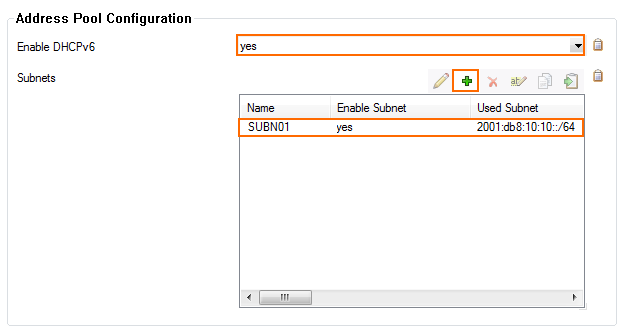 For more information, see How to Configure the DHCP Service.
Your IPv6 client now automatically receive IPv6 address from the IPv6 address pool of the DHCP server.