Front Side F82 Annex-A / Annex-B Revision A

Rear Side F82 Annex-A Revision A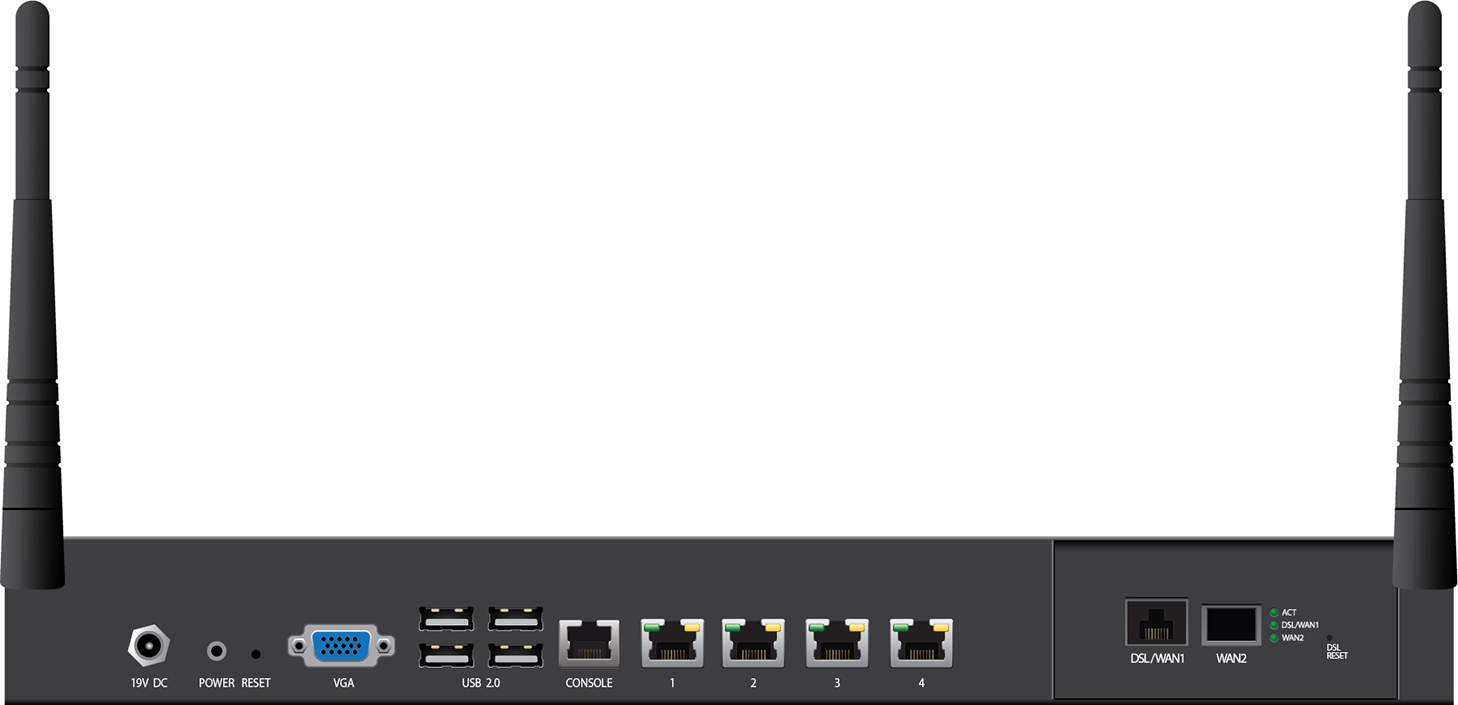 Rear Side F82 Annex-B Revision A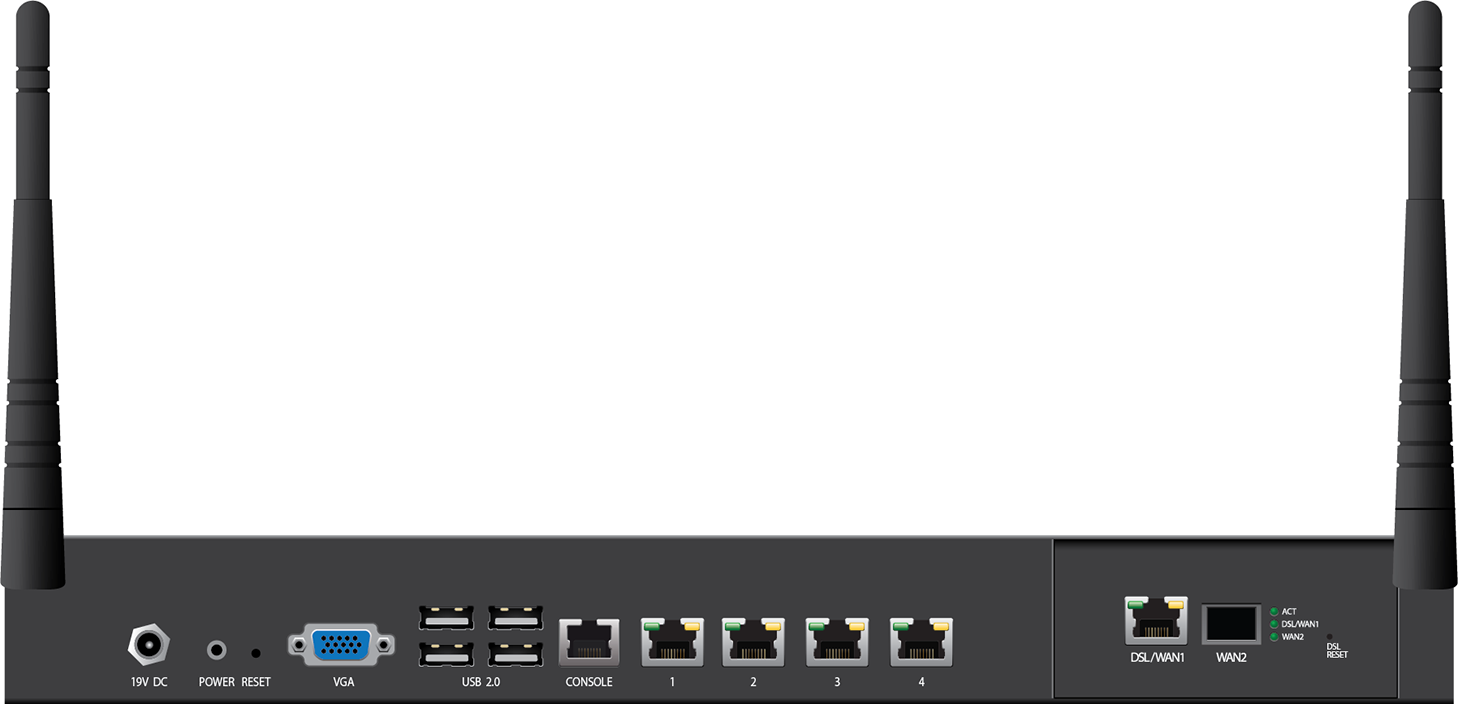 Minimum Firmware Requirements
CloudGen Firewall  7.0.2 or later, or 6.2.4 or later
Default Port Configuration
Port Label
OS Notation
Speed/Type (Revision A)
Management Port
1
p1

10/100/1000 MBit RJ45

X
2
p2

10/100/1000 MBit RJ45

 
3
p3

10/100/1000 MBit RJ45

 
4
p4

10/100/1000 MBit RJ45

 

DSL/WAN1
WAN2

dsl1

Annex A: RJ 11 (Annex A)
1 GbE SFP Optical Fiber

Annex B/J: RJ45 (Annex B/J)
1 GbE SFP Optical Fiber

 
Hardware Specifications
Component
Revision A
CPU
Intel Atom Dual Core

Data Storage

4 GB
Mass Storage
1 x 50 GB SSD
Flash Disk
-
LCD Module
-
USB
4 x USB 2.0
Form Factor
Desktop
Dimensions (W/D/H)
378/160/44 mm

 

Net Weight
2.2 kg

Power Supply
Single, external
Power Supply Input Voltage
100 - 240 V, AC
Power Supply Output Voltage
19 V, DC
Power Supply Frequency
50 Hz - 60 Hz
Power Supply Watts
45 W
Storage Temperature
–20 °C to +70 °C
Operation Temperature
0 °C to +35 °C
Relative Humidity
5% - 95%, non-condensing
Certifications
CE, FCC, ROHS
Wi-Fi
802.11 b/g/n or better extended range WiFi adapter
DSL
Compliant with ITU-T VDSL2 G.993.2
Compliant with ITU-T G.vectoring
Auto Fall back to ADSL2/2+
ANSI T1.413 Issue2
ITU-T G.992.1 G.dmt
ITU-T G.992.3 ADSL2 (G.dmt.bis)
ITU-T G.992.5 ADSL2+
VDSL Band Plan: 997, 998
VDSL2 Profile: 8a, 8b, 8c, 8d, 12a, 12b, 17a, 30a
Annex A, Annex B, Annex M, Annex J
Bridged (default) or Advanced Mode
Auto failover WAN1-WAN2
LED and Acoustic Signals
Your appliance is equipped with a variety of LEDs and acoustic signals. The front side of the Barracuda CloudGen Firewall F18 has one power LED (blue), one disc LED (green), one status LED (red) and 4 port LEDs. The rear side has one power button LED and various port LEDs. Two acoustic signals indicate the installation status.
LED Color
Status
Meaning
All LED Off
Off
Appliance is powered off or installation has not yet finished.

Power LED front side BLUE

Steady
Appliance is plugged in and is On.
Status LED front side RED



Off
Power LED on and Status LED off: Box is running normally, or installation has finished successfully.
Steady
Appliance is halted and may be disconnected / An error has appeared preventing the Barracuda CloudGen Firewall from entering the up state.
Blinking slowly
(1/s interval)
Normal installation / Appliance is either booting, shutting down, or performing a system update.
Blinking fast
(4/s interval)
Error during installation / Appliance is in ART mode.
Disc LED front side GREEN
Blinking
Appliance is reading or writing on storage.
Port LEDs front side GREEN
Blinking
Port in use (Data transfer).
Port LEDs back side GREEN
Left blinking,
Right steady
Port in use (Data transfer) - Yellow (10/100 Mbps) port is On.
xDSL LEDs back side

ACT blinking

DSL/WAN1 steady

WAN2 steady

xDSL modem is active

DSL/WAN1 connected

WAN2 connected
Acoustic Signal
Frequency
Meaning
Beep
1 time
(.)
Appliance is starting to boot.
Beep
3 times
(. . .)
Installation was completed successfully; appliance is halted for reboot. After reboot, one beep will again indicate booting.
Beep

3 times long

(_ _ _)

Error during installation.
Serial Console Port
In order to establish a console connection to the appliance using a serial cable (RJ45), you need to configure the serial port on the terminal using the following parameters:
| Parameter | Value |
| --- | --- |
| Baud | 19200 |
| Bits | 8 |
| Stop bit | 1 |
| Parity | None |
| Handshake | None |