What´s New in Version 7.1.0
Traffic Intelligence SD-WAN Features
SD-WAN is a technology deployed at the edge of the network to connect remote, on-premises, and cloud networks easily and cost effectively to form a Wide Area Network (WAN). SD-WAN provides better application availability by reducing or even eliminating the need for expensive MPLS lines by partially or completely replacing them with multiple cheaper broadband Internet connections. The SD-WAN Traffic Intelligence features enable the NextGen Firewall F to utilize multiple uplinks for encrypted WAN communication and to apply traffic prioritization, compression, and optimization policies. Routing decisions based on the continuously monitored performance of each WAN connection ensures that the traffic is always using the optimal transport based on your business requirements, thereby eliminating the need for manual routing decisions. The following Traffic Intelligence SD-WAN features are available:
Dynamic Bandwidth and Latency Detection
Performance-Based Transport Selection
Adaptive Bandwidth Protection
Adaptive Session Balancing
For more information, see Traffic Intelligence.
Dynamic Bandwidth and Latency Detection for Traffic Intelligence

Traffic Intelligence has been enhanced by several new features based on Dynamic Bandwidth and Latency Detection. This allows the firewall to determine the actual bandwidth for UDP transports available for a VPN transport through monitoring, active probing, and passive probing.
For more information, see Traffic Intelligence.
Performance-Based Transport Selection

for Traffic Intelligence
Performance-Based Transport Selection selects the optimal transport based on the policy selected in the TI settings of the custom connection object. The VPN transport can be selected to optimize for latency, inbound, outbound, or combined bandwidth.
For more information, see Traffic Intelligence  and  How to Configure Performance-Based Transport Selection for VPN Tunnels with Traffic Intelligence.
Adaptive Bandwidth Protection for Traffic Intelligence
Adaptive Bandwidth Protection ensures that traffic in the NoDelay (VoIP) QoS band is always prioritized over standard traffic. The firewall uses the link quality metrics gathered by Dynamic Bandwidth and Latency Detection to adjust traffic shaping to always fully utilize the available bandwidth. It is recommended to combine Adaptive Balancing on the VPN transport with consolidated shaping in order to shape the VPN traffic in a two-step process with Adaptive Shaping on the VPN transport and Consolidated Shaping on the VPN traffic a whole. Adaptive Shaping uses a simplified internal shaping tree that reserves 30% for NoDelay traffic and 70% for standard traffic.
For more information, see Traffic Intelligence and How to Configure Adaptive Bandwidth Protection for VPN Tunnels with Traffic Intelligence.
Adaptive Session Balancing for Traffic Intelligence
Adaptive Session Balancing distributes VPN traffic over multiple transports and uses link-quality metrics collected by Dynamic Bandwidth and Latency Detection for both the initial balancing and to rebalance sessions with a lifetime of over 5 seconds.
For more information, see Traffic Intelligence and How to Configure Session Balancing for VPN Tunnels with Traffic Intelligence.
Traffic Duplication for Traffic Intelligence
Traffic duplication copies packets and simultaneously sends them through the selected primary and secondary transports. Both traffic streams are combined again at the other end of the VPN tunnel. Use Traffic Duplication for applications requiring instant failover without a single dropped packet in case a VPN transport goes down. Since traffic is duplicated, both transports must have the same bandwidth and latency.
For more information, see Traffic Intelligence and How to Configure Traffic Duplication for VPN Tunnels with Traffic Intelligence.
Named Networks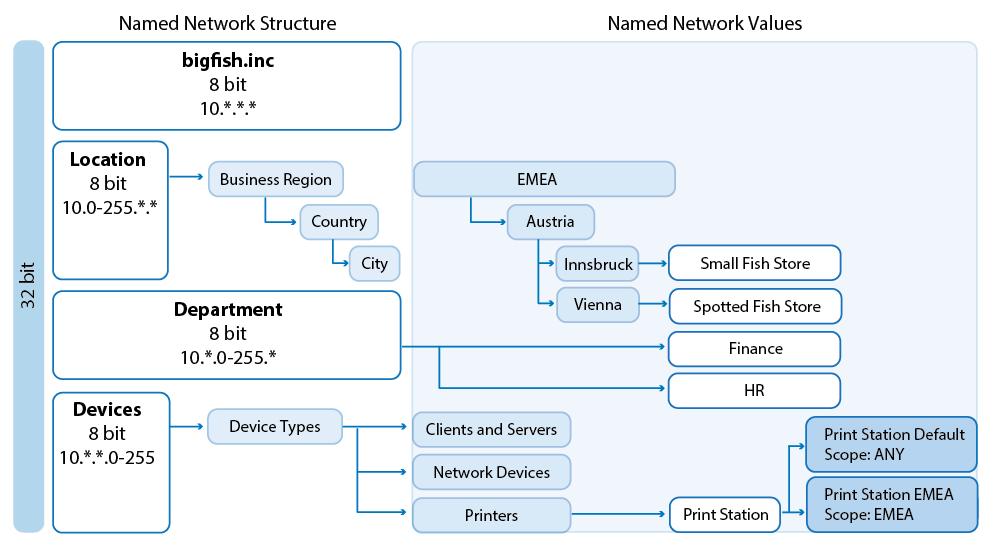 Named Networks provide firewalls with structured network information that usually correlates with the company structure while preserving its human-readable names for users. The usage of Named Networks makes the most sense when they are used in the Global, Range, or Cluster Firewall object in the NextGen Control Center. Named Networks can be used solely for firewall ruleset evaluation, or for both ruleset evaluation and visualization.
For more information, see Named Networks.
Wildcard Network Objects
Wildcard network objects are network objects that include a network mask containing information regarding which parts of the IP address is to be evaluated. Wildcard network objects can be used to describe IP addresses that cannot be covered by network objects using subnets masks.
For more information, see How to Create Wildcard Network Objects.
NextGen Firewall Auto Scaling Cluster in AWS
A NextGen Firewall Auto Scaling Cluster scales with demand to create a cost-effective, robust solution for securing and connecting to highly dynamic or cyclical applications running in AWS. The firewall cluster is tightly integrated with AWS services and APIs and can be deployed either to integrate with existing resources in an AWS region, or as part of an auto scaling application. The firewall cluster is highly available and scalable over multiple AWS Availability Zones, without any single point of failure such as additional management or worker node instances.
For more information, see Implementation Guide - NextGen Firewall in AWS and  AWS Reference Architecture - NextGen Firewall Auto Scaling Cluster.
NextGen Firewall Cold Standby Cluster in AWS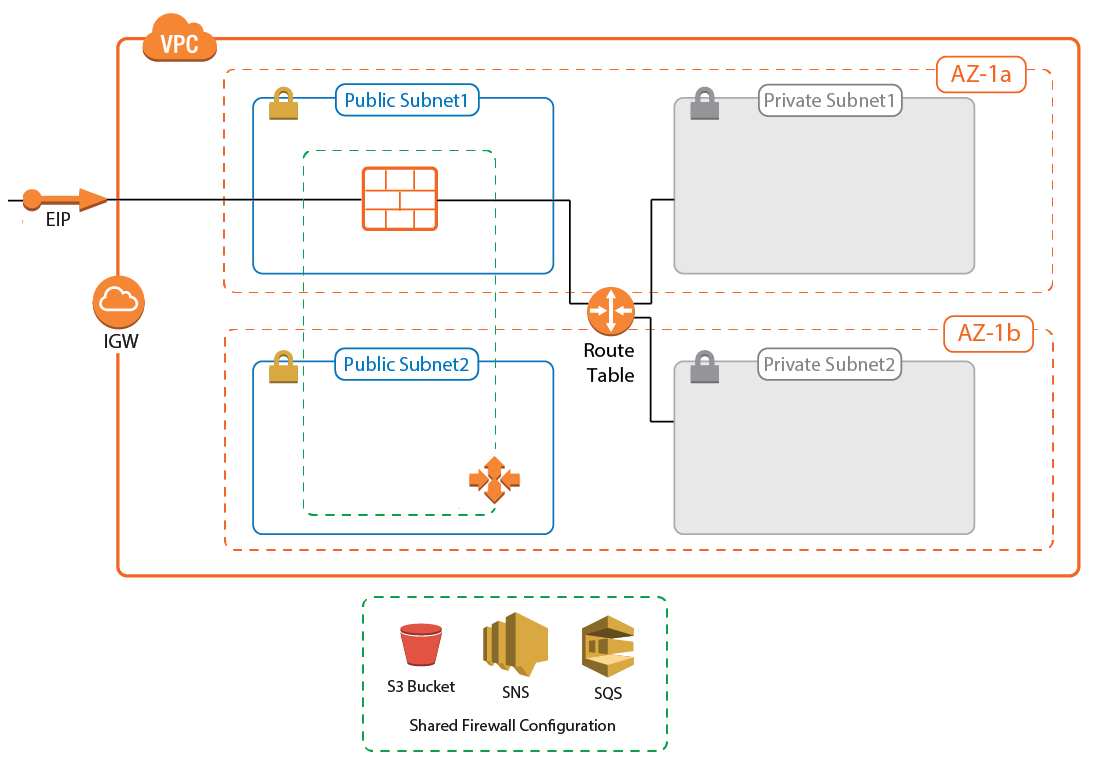 For deployments that require a low-cost solution, the NextGen Firewall Cold Standby Cluster is an auto scaling cluster with a maximum size of one. If the instance fails, it is automatically replaced within minutes. The firewall configuration is securely stored and synchronized through AWS backend services. Replacing the Elastic Load Balancer used in the NextGen Auto Scaling Cluster with a floating Elastic IP allows the use of both TCP- and UDP-based services on the firewall. The default template uses hourly PAYG licensing, but can be modified to use pool licenses for Control Center-managed instances.
For more information, see Implementation Guide - NextGen Firewall in AWS  and  AWS Reference Architecture - NextGen Firewall Cold Standby Cluster.
The NextGen Firewall F can now stream log data to AWS CloudWatch. All selected log files are streamed via syslog streaming to be analyzed in CloudWatch. CloudWatch also collects a set of custom metrics from each firewall instance to be used for reporting and as data points for Auto Scaling policies.

For more information, see How to Configure Log Streaming to AWS CloudWatch.

The NextGen Firewall F can now stream log data to Microsoft OMS in Azure. All selected log files are streamed via syslog streaming to Azure OMS, where they are stored, analyzed, and/or processed.
For more information, see How to Configure Azure OMS Log Streaming.
Web Interface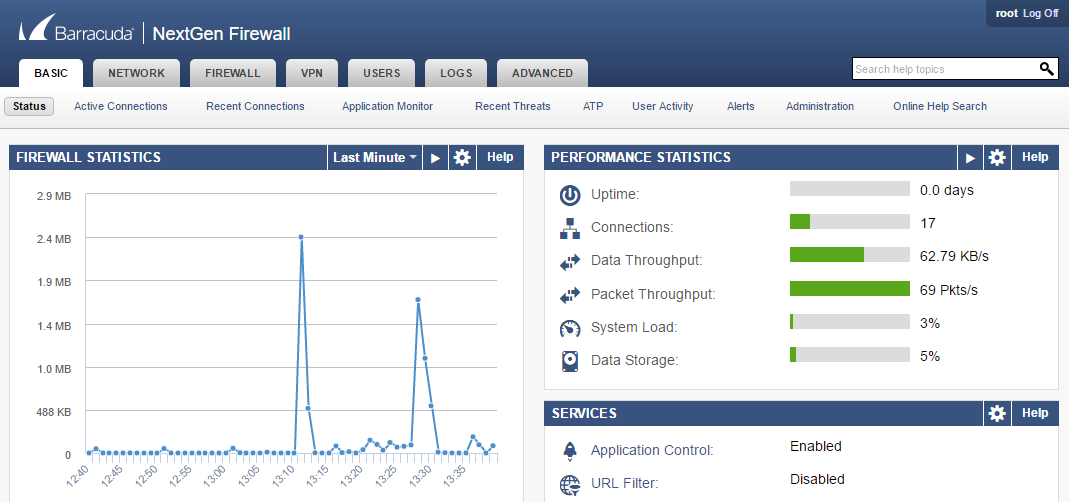 Web interface is an alternative configuration management tool to NextGen Admin that enables you to manage the following stand-alone hardware appliances by using a modern web browser: F18, F80, F180, F280, F380, and F400. When using the web interface for firewall configuration management, NextGen Admin can only be used in monitor mode. Switching configuration management to NextGen Admin automatically disables the web interface.
For more information, see Web Interface.
Link Protection for Mail Security in the Firewall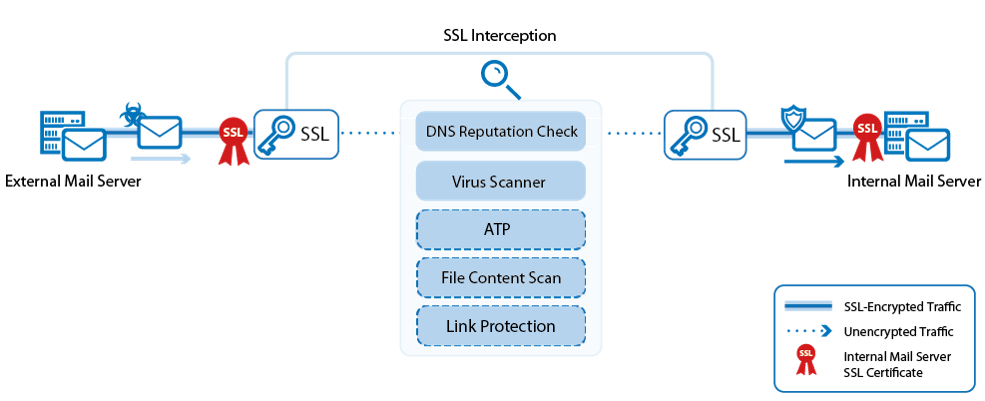 Sharing content with other users has become common on the web. As URLs are exchanged using emails, the risk of using incorrectly typed links can lead to fraudulent websites or unknown domains that can harm users. Link Protection protects users from such fraudulent links inside plain-text and HTML emails. In case a URL link is detected inside of an email, the URL link is checked and rewritten in case it is regarded to be fraudulent.

For more information, see Mail Security in the Firewall, and  How to Configure Link Protection for Mail Security in the Firewall.
SSL VPN Access Control Policies

Access control policies with multi-factor authentication and multi-policy authentication provide granular control over access to resources by qualifying users based on groups they belong to, the technology they use, and how they authenticate.
For more information, see How to Configure Access Control Policies for Multi-Factor and Multi-Policy Authentication.
SSL VPN Google Authenticator Support

Google Authenticator provides a way of authenticating by using Time-Based One-Time Passwords (TOPT) generated by an app on a mobile device for iOS and Android. On system level, authenticating requires an authentication scheme; on user level, users are required to enroll their device for authentication.

For more information, see How to configure Access Control Policies for Google Authentication and  Enroll your Mobile Device for use Google Authenticator Authentication.
SCADA Protocol Support
In industrial fields, components like sensors and actuators send and receive information as part of industrial processes. The information is transmitted as network data to supervisory control systems for acquisition and management (SCADA). The flow of network data relates to a wide family of protocols, the most common of which are handled by the Barracuda NextGen Firewall.
For more information, see Application Control and  How to Configure Application Rules Matching SCADA Protocols .
SMTP Authentication Support for Email Notifications
Email notifications sent by the Virus Scanner or ATP services can now use SMTP servers with SMTP authentication.
For more information, see How to Configure the System Email Notification Address.
Soft Network Activation for VLANs
Activating changes to the VLAN network configurations is now possible with a soft network activation. Since the network subsystem is not restarted during a soft activation, active connections continue uninterrupted.
For more information, see How to Activate Network Changes.
IPv6 Dynamic WAN Connections
The F-Series Firewall can use both stateless and stateful autoconfiguration with prefix delegation to receive IPv6 addresses from an IPv6 ISP.
For more information, see IPv6.
CudaLaunch 2.3.0
CudaLaunch for iOS now uses the TINA VPN protocol and no longer uses the built-in iOS VPN client. CudaLaunch 2.3.0 also added support for multi-factor authentication.
For more information, see CudaLaunch.
New Hardware Model F82 + F800C


Barracuda released two new appliance models: F82A and F800C. F800 Revision C provides increased port density while F82A model DSLA supports AnnexA (using RJ11 an SFP) and model DSLB supports AnnexB/J (using RJ45 and SFP).
For more information, see F82 Revision A, F800 Revision C.
Improvements Included in Version 7.1.0
Barracuda NextGen Admin
The Control > Status Map now displays information in the Appliance and Serial columns for Secure Connectors. BNNGF-40591
In NextGen Admin, ATP has been removed from FIREWALL and is now a tab of its own. BNNGF-43043
In NextGen Admin > DASHBOARD, the number and width of columns for the elements are now configurable. BNNGF-43164
The Client Settings section of the NextGen Admin OPTIONS has added a parameter toggle in the in-place editing behavior when double-clicking on a rule in the firewall ruleset. BNNGF-45402
The built-in SSH client in NextGen Admin now supports EC ciphers. BNNGF-39133, BNNGF-39839
NextGen Admin now displays SHA1 fingerprints as expected. BNNGF-44292
For High Availability Clusters: In the bottom table of the FIREWALL > Live tab, the synchronized status of firewall sessions is now displayed when ShowProc is activated. BNNGF-39368
In NextGen Admin, the user interface for tunnel settings for IKEv2 tunnels is now displayed correctly. BNNGF-44403
Rules with the Firewall History Entry set to No in the Advanced Settings are no longer displayed in the FIREWALL > History page. BNNGF-45900
Performance improvements for the Control Center Status Map. BNNGF-45011
Several changes have been made in NextGen Admin to improve user experience on the VPN page. BNNGF-19036
The VPN Client-to-Site page now shows correct information regarding the 'Last status' in the column of a user. BNNGF-23879
On the VPN Status page, the default selection now includes IPsec IKEv2 tunnels. BNNGF-39057
Barracuda OS
The Barracuda NextGen Firewall F10 Rev A is no longer supported for firmware version 7.1.0 or higher. BNNGF-47151
Performance improvements have been made for bridged interfaces. BNNGF-40751
Adding or removing interfaces that are part of a bridged interface now works as expected. BNNGF-43407
The values for maximum session slots for some hardware models have been adjusted. BNNGF-43667
Resolved issue causing NextGen Admin to fail when managing multiple firewalls and Control Centers. BNNGF-44892
Logging files to an external USB storage now works as expected if log file-specific settings contain special characters. BNNGF-40129
ART rescue installation now works as expected for F800 and F900. BNNGF-43060
The SMTP for sending email notifications can now handle multiple responses. BNNGF-45798
Firewall stability improvements have been made for handling FTP traffic. BNNGF-45899
Improved error handling for retrieving available firmware updates and product tips. BNNGF-44050
For F82 hardware firewalls, the network activation timeout has been increased to 180 seconds. BNNGF-44959
Cloud integration logs have now been added to the syslog Logdata Filters. BNNGF-43075
Logging of user names has been added to threat log entries. BNNGF-44913
It is now possible to get the interface alias via SNMP. BNNGF-44543
DSL Modem status is now displayed as expected. BNNGF-44078
Removed support for SSHv1. BNNGF-33983
Using DSA keys for SSH can now be configured as an optional feature. BNNGF-38890
TCP window size for syslog streaming is now set correctly. BNNGF-45814

Box layer High Availability sync for the NextGen Control Center now works as expected. BNNGF-45796

Web Security Gateway authentication scheme now works as expected. BNNGF-45113
Control Center
Transferring multiple updates via Control Center now shows all processed updates on the hardware firewall. BNNGF-46244
Upgrading a pool license no longer requires a manual reassignment of the pool licenses. BNNGF-44277
Managed firewalls using distributed firewalls are now listed on the CONTROL > File Updates > Application Control Definition Updates page. BNNGF-39276
A message is displayed on the CONTROL > Firmware Update page if Product Tips are available. BNNGF-42129
F-Series VIP Networks has been renamed to VIP Networks In Global Settings of the Control Center. BNNGF-40683
A cluster can now be deleted regardless of existing server references. BNNGF-45322

The Barracuda Activation tab now displays license types and grace periods for Pool Licenses. BNNGF-44134

New columns have been added and improvements have been made to the Floating Pool Licenses tab. BNNGF-44497, BNNGF-44074

New filters have been added for making selections in the Pool Licenses tab. BNNGF-45232

Double-clicking a Secure Connector in the Control Center Status Map now opens the Secure Connector web interface. BNNGF-32846

On the Control Center > Firmware Updates page, the Product Tips now show the full firmware version number the hotfix applies to. BNNGF-46584
Added an option to automatically fail over the virtual server when updating a firewall in a High Availability Cluster. BNNGF-44422, BNNGF-44423

Updating pool licenses no longer deletes the license comment. BNNGF-42442
Access Control Service
Memory management improvements for the Access Control service. BNNGF-36173
Access Control Service Allowed Client Versions can now also match on NAC 4.0 clients. BNNGF-45220
DHCP
DHCP requests are now passed to the DHCP server if a bridge is configured. BNNGF-31658
DHCP configurations are now converted correctly into text format. BNNGF-32073
DNS
DNS slave zones are now processed correctly even if multiple DNS masters are configured. BNNGF-44937
Firewall
Stripping of TCP timestamps can now be enabled/disabled on the FIREWALL > Forwarding Rules > Access Rules > Advanced page in the TCP Policy section in the Advanced Settings of an access rule. BNNGF-29723
Traffic shaping and firewall service improvements have been made to resolve some cases of high latency and load. BNNGF-39990
Firewall service stability improvements. BNNGF-41729

It is now possible to use a hostname network object as a redirection target in Dst NAT access rules. BNNGF-42918

It is now possible to enable TCP timestamp stripping of the matching access rule. BNNGF-44801
Skype audio is now detected without a preceding SSL dummy handshake. BNNGF-43091
In Advanced Settings of the Access Rules in the Miscellaneous section, Use X-Forwarded-for has been added as an Application Ruleset Evaluation option. BNNGF-42985
Firewall now supports the option to configure link protection as part of Mail Security. BNNGF-44621
Risk-level overrides for applications now work as expected. BNNGF-24640
SSL Interception for FTPS traffic now works as expected. BNNGF-41836
SSL Interception improvements have been made. BNNGF-43919
URL Filtering now also accepts URLs entered in lower-case characters. BNNGF-44615

ONCRPC Firewall plugin stability improvements. BNNGF-46256
FSC-Series
Deleted and disabled Secure Connectors can now be identified by the icons that display their availability and state. BNNGF-36075

Corrected naming for Secure Connector FSC-Series parameters. BNNGF-44881,BNNGF-43875
HTTP Proxy
HTTP Proxy no longer blocks all traffic when MIME type ACLs are configured. BNNGF-43340
The HTTP Proxy no longer crashes if the Virus Scanner worker process reaches its limit. BNNGF-44542
When setting the Front End HTTPS header to On or Auto on a reverse proxy, a backend server now redirects requests to HTTPS instead of HTTP if the backend server supports squid-specific HTTP headers. BNNGF-45534
Importing a key with ECDHE ciphers into an HTTP Proxy now works as expected. BNNGF-36722
For HTTP Proxies in reverse mode, when the Default Access Control Policy is set to DENY, traffic is now blocked as expected. BNNGF-45679
Licensing
Importing pool licenses no longer requires the user to select the NextGen Firewall model. BNNGF-45338
Summary information of pool licenses is now displayed correctly. BNNGF-45345
Comments for pool licenses are now updated correctly after a pool license update. BNNGF-42442
RIP/OSPF/BGP
For BGP over IKEv1 VPN tunnels, the BGP daemon is now only notified if the VPN tunnel status changes. BNNGF-45984
REST API
Updated support for the REST API to send more than one response back to the client. BNNGF-36243
HTTP and HTTP/S on the REST API are now allowed on the same port. BNNGF-37852
It is now possible to create and mange network objects via REST-API. BNNGF-40609
The REST API now supports importing .YANG files in order to create common types. BNNGF-40941
Virus Scanner and ATP
File downloads using HTTP POST requests no longer fail with the ATP policy Scan First Then Deliver. BNNGF-42269
File scanning results from the Avira virus scanning engine that contain multiple result messages are now interpreted correctly. BNNGF-42674
IPS no longer scans traffic on the loopback interface. BNNGF-42855
Files in the Virus Scanner quarantine are now purged on a hourly and size basis. BNNGF-45303
It is now possible to trigger an immediate email delivery while the file is being scanned in the ATP cloud. BNNGF-42621
In the Virus Scanner Settings, trusted IP addresses and host names that are excluded from scanning can now be configured. BNNGF-42746

On the ATP > Emails in Progress page, the columns State, Priority, File Type and Start Time have been added to the Attachments list. BNNGF-45739

ATD has been renamed to ATP. BNNGF-45846, BNNGF-45092

In ATP, a new tab has been added to handle exceptions for whitelisted and blacklisted files. BNNGF-45943

Virus scanning in the firewall now works as expected if the Virus Scanner service is on different virtual server. BNNGF-46675
VPN
Users with VPN client access are now displayed by their CN name on the VPN Client-to-Site and VPN Status pages. BNNGF-29310
Upgrading to 7.1.0 no longer causes VPN traffic to be missing from the IPFIX flow. BNNGF-44308
NextGen Admin now shows IPsec local / remote network settings as expected. BNNGF-45097
Disabling an IPsec IKEv2 tunnel via NextGen Admin now works as expected. BNNGF-34631
Changes in the IPsec IKEv2 VPN tunnel configuration dialog are now recorded by RCS as expected. BNNGF-42869
Enrollment of Simple Certificates (SCEP) now works as expected. BNNGF-44266
For dynamic routing over VPN, it is now possible to rewrite the next hop to a reachable IP. BNNGF-44604
Security associations for IKEv2 IPsec tunnels are now grouped on the VPN > Site-to-Site page. BNNGF-44319

On the VPN > Site-to-Site page, a Dynamic Mesh does not display a VPN tunnel to itself any more. BNNGF-45073

Simultaneous client-to-site VPN connection attempts of multiple clients no longer leads to invalid cookie errors. BNNGF-46589
SSL VPN
New client-to-site events have been added for sending notifications either when a user establishes or terminates a client-to site VPN tunnel, or when a client-to-site VPN tunnel is terminated by the firewall. BNNGF-28171
Favorites and Attributes for single sign-on (SSO) VPN profiles are now preserved during backup and restore. BNNGS-199
Users can now authenticate with RADIUS even if unfinished authentication processes are pending. BNNGS-208
Failed downloads from network places now let users stay in the web portal. BNNGS-2318
Launching a network place to a share that does not support anonymous connections now prompts users to enter credentials. BNNGS-2361
Recursively removing non-empty folders now works properly in VFS. BNNGS-2389
Uploads are sent to the correct directory and renamed. BNNGS-2364
Downloading files works even if the file is empty. BNNGS-2395
Logging back into the web portal after a session timeout now works properly. BNNGS-2404
Files larger than 2 GB can be uploaded on Android and iOS. BNNGS-2539
Server requests initiated by a web app now work after doing an NTLM SSO. BNNGS-2598
Access to the system is granted only if the client certificate is within its valid period. BNNGS-2600
Access to network folders via CudaLaunch works for directory names that include the '#' character. BNNGS-2754
Single sign-on works when using Microsoft Open Web Access 2010. BNNGS-2759
Username and password can now be set for a network place in NextGen Admin. BNNGS-1928
If authentication fails on a VPN connection, a user is prompted for a password. BNNGS-2517
Android is now supported by NAC. BNNGS-2675
Admins are allowed to set username/password for VPN profiles. BNNGS-2672
SSL VPN now provides a whole certificate chain. BNNGF-45763

Running a greater number of tunnels in conjunction with frequent DNS lookups now works as expected. BNNGF-46461
Public Cloud
On all NextGen Firewalls and Control Centers in the public cloud SSH login via password is now disabled by default. BNNGF-46408
On all NextGen Firewalls and Control Centers a password change is now enforced on the first login. BNNGF-44509
Known Issues
The following known issues have been fixed for 7.1.0EA via hotfix:
Hotfix 847 - KRACK Attack
Security fix for the WPA2 vulnerability.
Hotfix 835 Security Issue
Security hotfix to address issue that could lead to unauthorized, low privilege access via the management IP addresses
Hotfix 830 Azure
Fixes issue causing the Azure OMS Agent to not start correctly.
Current Known Issues
June 2018: Firewall – Copying access rules with enabled SSL Inspection from firewalls running firmware version 7.2.x to firewalls running firmware version 7.1.0, can have negative impact on SSL Inspection on the destination system.
August 2017: VLAN – After updating from 7.0.2 to 7.1.0 the MTU is set to 0 for all VLAN interfaces. The MTU must be set manually to 1500, otherwise the firewall will drop the connections with Received Packet Exceeds NIC MTU (Invalid TCP-Segmentation-Offload ?) error message. (BNNGF-47369)
August 2017: Firewall – Using network object containing references to other networks objects as a Redirection Target in a Dst NAT rule currently results in an invalid firewall ruleset when trying to commit the changes. (BNNGF-47697)
July 2017: Named Networks – Configuring explicit network objects referencing to Named Networks is currently not possible. (BNNGF-47751)
July 2017: Internal DSL Modem – It is not possible to start, stop, or restart the DSL connections using the Barracuda DSL modem in the Dynamic Networks section on the CONTROL > Box page. (BNNGF-47819)
July 2017: VLAN – After updating from 7.0.2 to 7.1.0 Header Reordering must be enabled for the VLAN interface, otherwise the firewall will drop the connections with Received Packet Exceeds NIC MTU (Invalid TCP-Segmentation-Offload ?) error message. (BNNGF-47369)
July 2017: Google Cloud – In some cases NextGen Firewalls deployed in the Google Cloud are unreachable after provisioning. (BNNGF-47380)
July 2017: Licensing – Downloading licenses on newly reinstalled firewalls fails if one or more licenses are expired. (BNNGF-47284)
June 2017 – Activating gateway routes on non-VLAN interfaces via soft network activation may cause short network downtime. Gateway routes on non-VLAN interfaces must be activated with a failsafe network activation.
June 2017: SSL VPN – Google Authenticator backup codes generated on stand-alone High Availability Clusters work only when the firewall is active at the time the device was enrolled.
June 2017: Traffic Intelligence – Dynamic Bandwidth and Latency Detection currently does not work on VPN transports using an IPv6 envelope. (BNNGF-47114)
June 2017: Control Center – Importing an archive.par that does not contain a CC database dump fails if the CC database is enabled. (BNNGF-46601)
Oct 2016: Application Based Routing – Streaming web applications such as WebEx, GoToMeeting, or BitTorrent always use the default connection configured in the application-based provider selection object. (BNNGF-42261)
Sept 2016 IPsec IKEv1 IPv6 – It is not possible to use hostnames as the remote gateway.
Sept 2016: IPsec IKEv1 IPv6 – It is not possible to use a dynamic local gateway.
Sept 2016: TINA IPv6 – It is not possible to use proxies for TINA VPN tunnels using IPv6. 
Sept 2016: OSPF – Enabling OSPF through the Run OSPF Router setting currently has no effect on freshly installed 7.0.0 firewalls. Enable OSPF by entering a dummy IP address in the Summary Range IP/ Mask list of the OSPF Area Setup.
Sept 2016: VMware – Network interfaces using the VMXNET3 driver do not send IPsec keepalive packets unless TX checksumming is disabled for the interface (ethtool -K INTERFACE tx off).
Sept 2016: Azure – After updating a firewall using Azure UDR via Azure Service Manager, the Deployment Type might be displayed incorrectly as y. This does not affect updating Azure UDR routes.
Sept 2016: IKEv1 IPsec – When using 0.0.0.0 as a local IKE gateway, you must enable Use IPsec Dynamic IPs and restart the VPN service before a listener on 0.0.0.0 is created.
Sept 2016: HTTP Proxy – Custom block pages do not work for the HTTP Proxy when running on the same NextGen F-Series Firewall as the Firewall service. This issue does not occur when running the HTTP Proxy service on a second NextGen F-Series Firewall behind the NextGen F-Series Firewall running the Firewall service.
Sept 2016: VPN Routing – When a duplicate route to an existing VPN route in the main routing table is announced to the NextGen Firewall F-Series via RIP, OSPF, or BGP, a duplicate routing entry is created and the route that was added last is used.
Sept 2016: VPN Routing – Creating a direct or gateway route with the same metric and destination as a VPN route in the main routing table results in duplicate routes. The route added last is used.
Sept 2016: Terminal Server Agent – It is not currently possible to assign connections to Windows network shares to the actual user.
Aug 2016: IKEv2 – Disabling a site-to-site tunnel on the VPN > Site-to-Site page is not possible. (BNNGF-40827)
Mar 2016: SSH – There is no sshd listener for IPv6 management IP addresses. (BNNGF-37403)
Feb 2016: Azure Control Center – On first boot, "fatal" log messages may occur because master.conf is missing. These log messages can be ignored. (BNNGF-36537)
Feb 2015: CC Wizard – The CC Wizard is not currently supported for Control Centers deployed using Barracuda F-Series Install. (BNNGF-28210)
Dec 2015: URL Filter – It is not possible to establish WebEx sessions when the URL Filter is enabled on the matching access rule. (BNNGF-35693)
Nov 2015: IKEv2 – Using a hostname or subnet as Remote Gateway is not currently possible. (BNNGF-34681,BNNGF-41471)
Nov 2015: IKEv2 – Using pre-shared keys with IKEv2 client-to-site VPNs is not possible. (BNNGF-34874)
Nov 2014: Barracuda OS – Provider DNS option for DHCP connections created with the box wizard must be enabled manually. (

BNNGF-26880)

Oct 2014: SSL VPN – User Attributes do not support UTF-8. (BNNGS-435)