What´s New in Version 7.1.1
VPN Apps in the SSL VPN

VPN Apps for the SSL VPN are used to allow users to connect to internal web applications not suitable for SSL VPN Web Apps or native apps. CudaLaunch transparently opens a client-to-site VPN tunnel and then opens the resource in the default browser. VPN Apps are available on Windows, iOS, and Android clients through the CudaLaunch app. 
For more information, see SSL VPN VPN Apps
Detect and Block DNS Tunnels

DNS tunnels make use of TXT or NULL DNS records to tunnel traffic through DNS queries and responses. The NextGen Firewall can now detect and block DNS tunneling via protocol object in Block or Deny application rules.
For more information, see How to Create a Protocol Object and How to Create an Application Rule.
Azure Stack Support

The NextGen Firewall and Control Center can now be deployed in your Azure Stack environment. You can deploy either by making the standard Azure Marketplace images available for your users, or by uploading and then deploying the BYOL VHD disk images from the Barracuda Download portal.
For more information, see Microsoft Azure Deployment and How to Upload Azure VHD Images for User Defined Images using ARM.
New Rugged Hardware Model F183R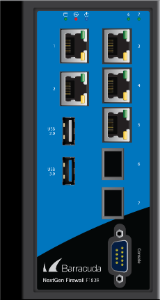 Barracuda released a new ruggedized industrial appliance: The 7-port F183R with two fiber ports.
For more information, see F183R (Rugged).
New Hardware Model F183


The F183 is a desktop appliance with 6 gigabit and 2 fiber ports.
For more information, see F180 and F183 Revision A.
Improvements Included in Version 7.1.1
Barracuda NextGen Admin
Resolved issue causing the second column of the VPN Server Settings to be invisible. BNNGF-46515

NextGen Admin now supports virtual DPI scaling for high resolution displays. BNNGF-48005

Increased timeout for submitting the CC Wizard configuration settings to 120 seconds. BNNGF-45136

NextGen Admin dialogs after a Send Changes are no longer sometimes opened on non-existing displays. BNNGF-47238

DSL connections using the internal Barracuda DSL modem can now be started and stopped on the CONTROL > Box page in the Dynamic Networks section of the left menu. BNNGF-47819

On a Control Center, the CONTROL > Pool Licenses page querying for licenses now works as expected for all time periods. BNNGF-47616

Failed license activations in NextGen Admin no longer block subsequent license activation attempts. BNNGF-47317

The certificate dialog in NextGen Admin now displays the correct expiration date and fingerprint. BNNGF-39201
Using the Im/Export certificate button in NextGen Admin now works for certificate chains. BNNGF-32287
The GTI Editor no longer allows VPN tunnels to have both Dyn Mesh and WAN Optimization enabled. BNNGF-44805

The Application Control revision browser now also contains information about changes to protocols, and file content and user agents objects. BNNGF-47300 

 Added a keyboard shortcut to the ATP tab to allow files to be removed from the lists using the Del key. BNNGF-47154

Cluster and range firewall objects are now automatically refreshed when opening the configuration dialog. BNNGF-46288

On the FIREWALL > Users page, double-clicking a user now displays a formatted list of groups. BNNGF-45817

Copying MAP access rules between different rule lists no longer changes the connection object. BNNGF-46090

It is now possible to include references to other network objects when importing a list of network objects from a CSV file. BNNGF-45490 
Barracuda OS
Resolved logic error in the configuration process that could allow an attacker to gain unauthorized, low-privilege access to the NextGen Firewall via the management IP addresses. BNNGF-48134

Copy from default with a Send Changes and Activate now writes the default values correctly into the configuration file without requiring an additional configuration change. BNNGF-46249

Downloading licenses on newly reinstalled firewalls no longer fails if one or more licenses are expired. BNNGF-47284

Logging into ART via SSH now works as expected for firewall models with more than one network card. BNNGF-47275

"Changed the maximum number of concurrent connections to the firewall authentication daemon to 1020 connections." BNNGF-47067

Increased the timeout for OCSP/CRL validation responses. BNNGF-47017

The firewall no longer crashes if more than 250 VLANs are configured. BNNGF-46702

DSL WAN connections using DHCP to receive the IP address from the ISP now work as expected. BNNGF-48064

When updating from 7.0.2, the MTU for the VLAN interfaces are now set correctly. BNNGF-47369

Configuration settings for SSL-encrypted syslog streaming are now re-enabled for managed firewalls. BNNGF-47576

A soft network activation for a VLAN interface now also checks if the underlying physical interface also needs to be enabled. BNNGF-46619

The Google Authentication configuration node has been moved from Advanced Configuration to Infrastructure Services. BNNGF-47096

Added Legacy Cryptography setting in the Advanced View of the Default Permission Profile setting of the SSH Proxy to allow admins to re-enable pre-7.1 cryptography settings. BNNGF-46674

Log file disk usage improvements. BNNGF-48239
Updated ntpd to version 4.2.6p5 to fix several security vulnerabilities. BNNGF-36184

Configuring weights between 1 and 100 for source-based multipath routes now work as expected. BNNGF-46324

Resolved issues where a ""Login master from X.X.X.X: unkown user"" event was triggered every hour on the passive firewall in a high availability cluster. BNNGF-35824

When using health checks for gateway routes, a state change no longer enables previously disabled routes. BNNGF-44821

Updated bind to version 9.9.9-P8 due to multiple security vulnerabilities. BNNGF-46368

Configuration changes via NextGen Admin no longer cause user authentication session information to be reset on the firewall. BNNGF44891
DHCP
Setting the Max, Min, and Default lease times in the DHCP lease configuration is now mandatory. BNNGF-46098 
Firewall
Setting the Max Session Source Accounting Objects in the General Firewall Settings to a non-zero value no longer causes errors when loading the ACPF kernel module. BNNGF-47622

Using a network object containing references to other networks objects as a Redirection Target in a Dst NAT rule no longer results in an invalid firewall ruleset. BNNGF-47697

Local out (LOUT) IPv6 sessions on port 636 are now terminated correctly. BNNGF-46877

Setting Action if online URL database is unavailable to block traffic to all websites in the Advanced Settings of the URL Filter policy objects now works as expected. BNNGF-47206

Using Link Protection as the only Application Control feature for SMTP traffic now works as expected. BNNGF-46264

Configuring explicit network objects referencing Named Networks now works as expected when used in the access rules. BNNGF-47751

Blocking SCADA traffic with a DENY rule now works as expected. BNNGF-46726

Mail Security in the Firewall now uses the correct response messages. BNNGF-47176

Named Networks can now be configured in the global, range, and cluster objects on a Control Center. BNNGF-48188

Internal IPS rules are now included in the IPS signature list. BNNGF-43544

Application Provider Selection improvements for applications using SNI in the TLS 1.2 handshake. BNNGF-45975

Added option for the Firewall Activity Log to write either key-value pairs or only the value in the General Firewall Configuration. By default, only the values are written. BNNGF-48268

The file name of the removed attachment is now displayed correctly in the response message included in the email. BNNGF-46783

Link Protection improvements for plaintext emails. BNNGF-46878

Updated Root DNS network object to include the the current DNS root servers. BNNGF-38070

PAP authentication on the NextGen Firewall F82 now works as expected. BNNGF-47762

FTP connections are now terminated with the correct server reply code when the virus scanner blocks a file. BNNGF-46581
SSL Interception now correctly handles connections where the MTU/MSS size is smaller than the default. BNNGF-48135
Control Center
Improved error message when a Control Center license update for managed firewalls fails due to a failed lock on the license configuration node. BNNGF-40233

All available and uploaded update files are now displayed in the Download Portal and Files on Control Center sections of the Firmware Update page on the Control Center. BNNGF-46467

Fixed fringe cases causing the license start dates in the firewall configuration and the Barracuda Activation tab to be displayed differently for some time / timezone combinations. BNNGF-45464

On the Barracuda Activation page in the pool license context menu, changed Remove Pool BAR-XXX to the more accurate Remove Pool BAR-XXX from Activation. Removing pool licenses does not remove the floating licenses in the firewall configurations. BNNGF-46991

Information in the Start Date and End Date columns on the CONTROL > Barracuda Activation page are now displayed as expected. BNNGF-46635

Email notifications for RCS changes now work as expected. BNNGF-46898
HTTP Proxy
Explicit IPv6 service listener IP addresses no longer cause the HTTP Proxy service to crash during the configuration activation. BNNGF-46808
Virus Scanner and ATP
Only files uploaded to the ATP cloud are now counted toward the monthly ATP limit; files previously scanned or manually uploaded are no longer counted. BNNGF-47148

Pending emails in the ATP tab are now sorted numerically. BNNGF-46734

The file queue waiting to be scanned by ATP is now sorted based on the start time. BNNGF-47595
VPN
IKEv2 client-to-site VPN connections with Windows 10 running the Anniversary Update (build 1067) now works as expected. BNNGF-44912

The Virtual IP for client-to-site connections on the VPN > Client-to-Site page is now displayed. BNNGF-48136

Changed the label of the Listening IP drop-down list to Use Transport Source instead of default-from-My-IP. BNNGF-44618

Memory-handling improvements for IPsec IKEv1 tunnels in the VPN service. BNNGF-44360

Client-to-site VPN connections using SHA2 certificates in combination with password authentication now work as expected. BNNGF-42586

It is now possible to enter a hostname as the Remote Gateway in the IKEv2 IPsec VPN tunnel configuration. BNNGF-41471

Performance improvements for VPN tunnels on Ethernet Bundles (bond) interfaces running on NextGen Firewall hardware models using the igb driver. BNNGF-42808
Public Cloud
Stability improvements to the Google Cloud provisioning process. BNNGF-47380

Google Cloud SDK is now available on the firewall. BNNGF-47363

New firewall instances in an Auto Scale Cluster are now detected and included correctly in aggregated pages in NextGen Admin. BNNGF-46003

Firewalls deployed in Azure can now also send metrics to Azure OMS.

Internal and external IP addresses and internal networks for public cloud firewalls in Azure and AWS are now stored in dedicated dynamic network objects and no longer in custom external network objects.
SSL VPN
Text-based user attributes now handle UTF-8 encoded text. BNNGS-435
RADIUS authentication with challenge response now works as expected. BNNGS-937
Clearing the address bar no longer results in a new SSL VPN session. BNNGS-1644
Excessively long Native App names with more than 75 characters no longer cause the SSL VPN service to fail. BNNGS-2170
Custom replacements in proxied web apps with more than 256 characters now work as expected. BNNGS-2703

SSL Tunnel path length of more than 64 characters no longer causes resource to fail on use. BNNGS-2960

It is now possible to use the hash ('#') symbol in a user attribute. BNNGF-2991

It is now possible to use the hash ('#') symbol in a web app single sign-on configuration. BNNGS-2992

When evaluating the SSL VPN with the included single user license, one CudaLaunch and one SSL VPN web portal connection are now allowed. BNNGS-3085
Default values for user attributes now work as expected. BNNGS-3106
Network places on CudaLaunch for Android/iOS now prompt for credentials if the supplied credentials are incorrect. BNNGS-3113
Multiple stability improvements for Google Authenticator. BNNGS-3074
Added a link to the Windows App store to the SSL VPN web portal. BNNGS-3120
Removed legacy Java applet-based health check components from SSL VPN service. BNNGS-3073
Zero Touch
Improvements to automatic revert detection. BNNGS-2884
The Zero Touch client process now cleans up /tmp folder after provisioning. BNNGS-3108
Issues Resolved by Hotfixes
Hotfix 844 - Google Cloud
Generic Segmentation Offloading (GSO) is now disabled in the KVM networking drivers used for firewalls running in the Google Cloud.
Hotfix 847 - KRACK Attack
Security fix for the WPA2 vulnerability.
Hotfix 851 - Public Cloud
The OMS Agent now works as expected after upgrading from 7.1.0 to 7.1.1.
Custom metrics collected by the OMS Workspace now work as expected.
Hotfix 852 - Firewall Service Stability Improvements
Firewall plugin stability improvments, resolving issues with failed FTP data sessions when handling a large number of FTP sessions.
Resolved issue where in some cases application rules did not match for HTTPS sessions. This also caused URL Filter and File Content policies configured in the application rule to not be evaluated.
Multiple SMTP and FTP protocol handling improvements.
Hotfix 856 – Control: Network Activation
A soft network activation now only removes changed virtual server IP addresses and no longer causes a network interruption.
Current Known Issues
Jun 2018: Firewall – Copying access rules with enabled SSL Inspection from firewalls running firmware version 7.2.x to firewalls running firmware version 7.1.0 - 7.1.1, can have negative impact on SSL Inspection on the destination system.
Nov 2017: URL Filter – URL Filtering currently does not work with PAYG images.

 

Nov 2017: VLANs – Transferring data over configured VLAN interfaces of a NextGen Firewall F180 or F280b can fail even if the MTU size is changed. BNNGF-46289

October 2017: Web Interface – New NextGen Firewalls using the Web Interface must start the basic setup wizard manually on the ADVANCED > Wizard page after the first boot. BNNGF-49057
September 2017: Azure ASM – NextGen Firewalls deployed using Azure Service Manager do now show the status running after deployment in the Azure portal. This does not affect the firewall VMs functionality. BNNGF-48296
September 2017: Authentication – Web Security Gateway authentication schemes are currently not working. BNNGF-45113
September 2017: FTP Firewall Plugin – If a FTP server responds to a RETR or STOR command with a multi-line reply, the FTP control session hangs. BNNGF-48996
September 2017: Zero Touch – On freshly installed 7.1.1 Control Centers Zero Touch fails with No CC identifier found logged periodically in the ztd.log file. Execute /opt/phion/hooks/service/rangeconf/hook_rangeconf START as root to fix this issue. BNNGF-48898
September 2017: Statistics – Retrieving performance statistics for inBytes, OutPkts, and OutPktsload is currently not possible. BNNGF-48574
September 2017: NextGen Firewall F82 – The DSL connection is not started automatically after restoring the configuration from a PAR file. This also includes reinstalling via USB stick with an PAR file included. BNNGF-47097
June 2017 – Activating gateway routes on non-VLAN interfaces via soft network activation may cause short network downtime. Gateway routes on non-VLAN interfaces must be activated with a failsafe network activation. BNNGF-48862
June 2017: SSL VPN – Google Authenticator backup codes generated on stand-alone High Availability Clusters work only when the firewall is active at the time the device was enrolled.
June 2017: Traffic Intelligence – Dynamic Bandwidth and Latency Detection currently does not work on VPN transports using an IPv6 envelope. BNNGF-47114
June 2017: Control Center – Importing an archive.par that does not contain a CC database dump fails if the CC database is enabled. BNNGF-46601
Oct 2016: Application Based Routing – Streaming web applications such as WebEx, GoToMeeting, or BitTorrent always use the default connection configured in the application-based provider selection object. BNNGF-42261
Sept 2016: VMware – Network interfaces using the VMXNET3 driver do not send IPsec keepalive packets unless TX checksumming is disabled for the interface (ethtool -K INTERFACE tx off). BNNGF-38823
Sept 2016: Azure – After updating a firewall using Azure UDR via Azure Service Manager, the Deployment Type might be displayed incorrectly as y. This does not affect updating Azure UDR routes.
Sept 2016: IKEv1 IPsec – When using 0.0.0.0 as a local IKE gateway, you must enable Use IPsec Dynamic IPs and restart the VPN service before a listener on 0.0.0.0 is created.
Sept 2016: HTTP Proxy – Custom block pages do not work for the HTTP Proxy when running on the same NextGen Firewall as the Firewall service. This issue does not occur when running the HTTP Proxy service on a second NextGen Firewall behind the NextGen Firewall running the Firewall service.
Sept 2016: VPN Routing – When a duplicate route to an existing VPN route in the main routing table is announced to the NextGen Firewall via RIP, OSPF, or BGP, a duplicate routing entry is created and the route that was added last is used.
Sept 2016: Terminal Server Agent – It is not currently possible to assign connections to Windows network shares to the actual user.
Aug 2016: IKEv2 – Disabling a site-to-site tunnel on the VPN > Site-to-Site page is not possible. BNNGF-40827
Mar 2016: SSH – There is no sshd listener for IPv6 management IP addresses. BNNGF-37403
Feb 2016: Azure Control Center – On first boot, "fatal" log messages may occur because master.conf is missing. These log messages can be ignored. BNNGF-36537
Feb 2015: CC Wizard – The CC Wizard is not currently supported for Control Centers deployed using Barracuda F-Series Install. BNNGF-28210
Dec 2015: URL Filter – It is not possible to establish WebEx sessions when the URL Filter is enabled on the matching access rule. BNNGF-35693
Nov 2015: IKEv2 – Using pre-shared keys with IKEv2 client-to-site VPNs is not possible. BNNGF-34874
Nov 2014: Barracuda OS – Provider DNS option for DHCP connections created with the box wizard must be enabled manually. BNNGF-26880