To connect your routed client-to-site VPN to your network, you must add a forwarding access rule to direct traffic between the tunnel, the remote, and the home network.
Before You Begin
Before creating your forwarding access rules, gather the following information:
The published VPN network(s).
The VPN client network(s)
Step 1. Create a Network Object for the Published VPN Networks
Create a static network object for the published VPN networks. If more networks are added to published VPN networks, update the network object to reflect these changes.
Type – Select List of Network Addresses.
Include Entries – For each published VPN network, click + to add it to the list.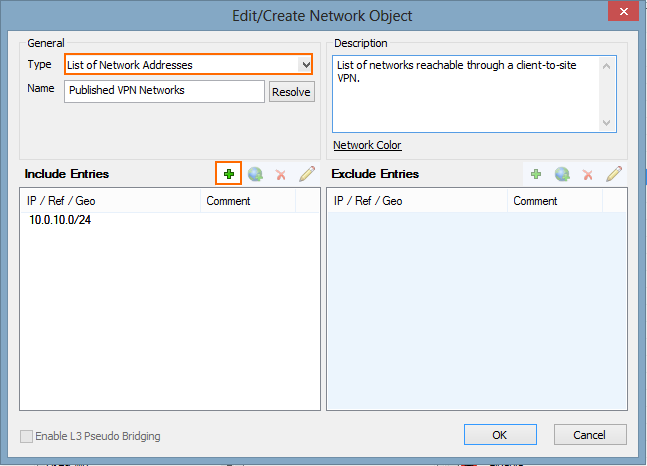 For more information, see Network Objects. 
Step 2. Create a Pass Access Rule
Add a Pass access rule that allows traffic from the VPN clients to the published networks.
Action – Select Pass.
Source – Select VPN-Clients. 
Service – Select the allowed services, or Any to allow all services.
Destination – Select the network object containing the published VPN networks created in Step 1.
Connection Method – Select Dynamic NAT.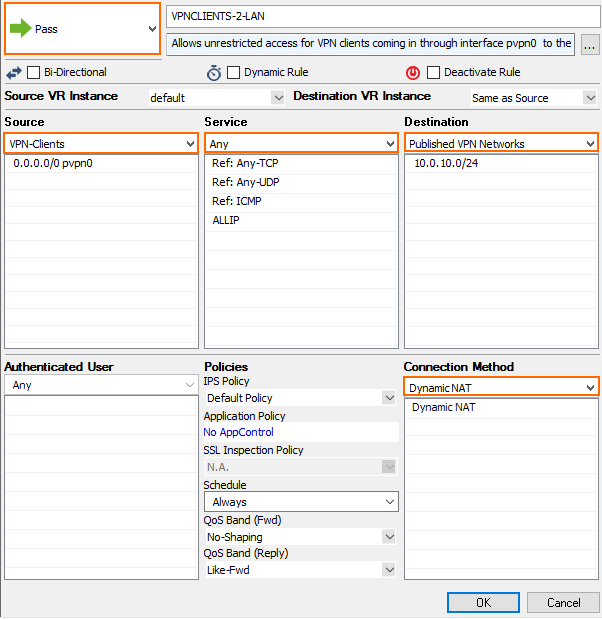 For more information, see How to Create a Pass Access Rule.