Barracuda Earth provides a visual representation of the status of your VPN site-to-site tunnels around the world. The Barracuda Earth application connects and retrieves the necessary information from the Barracuda Firewall Control Center.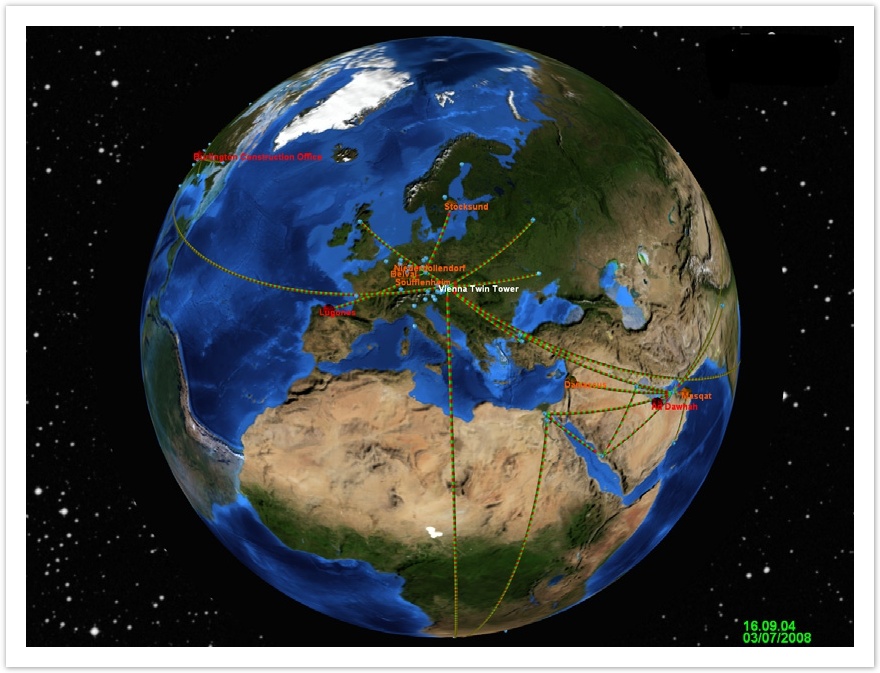 Requirements
You must use the VPN GTI Editor to create the VPN tunnels

for Barracuda Earth to be able to retrieve the settings

. For more information, see GTI Editor.
Barracuda Earth requires DirectX version 9 or later.
Microsoft Windows

7, Windows 8, Windows 8.1, and Windows 10

Barracuda Firewall Control Center Global or Enterprise Edition
Install and Configure
Barracuda Earth
Configure administrative permissions for Barracuda Earth on the Control Center and add the CloudGen Firewalls you want to manage using Barracuda Earth. After setting up Barracuda Earth, install and configure the application to establish communication with the firewalls.
Barracuda Earth Settings
You can configure the following settings for Barracuda Earth:
Graphics Settings:
Political Map – Displays a political map.
Terrain – Shows terrain information on the map.
Transparent Water – Adds transparency to the water.
Full Screen – Enables fullscreen display mode. Exit with F or F11.
Last Update Time – Displays time and dates of the last tunnel information update from the CC.
Map Quality – Move the slider to select the texture quality of the map.
Geometry Quality – Move the slider to select the geometry quality (number of polygons). This setting influences your performance substantially. Recommended value is Medium.
API – Select DirectX or OpenGL. If your system does not support DirectX, you can select OpenGL as an alternative. By default, Barracuda Earth starts with DirectX and the DirectX driver version is checked.
Connection Settings: 
Demo Mode – When no configuration is selected, Barracuda Earth starts in demo mode and displays virtual tunnels. If selected, choose between different demo regions or customize your own demo tunnels.
Server IP/Port – The IP address and server port to connect to the Control Center.
User/Password – The username and password to connect to the Control Center.
The password is encrypted and stored in the ini-file. Be aware that even stored passwords in encrypted form can be brute-force attacked.
For more information, see: How to Set Up Barracuda Earth.
Using Barracuda Earth
When you launch Barracuda Earth, it displays a graph similar to the image shown in the above section. You can use the following hotkeys to control your Barracuda Earth view:
n – Opens a new 2D window that can be moved onto a different desktop (especially for dual-head graphics card).
t – Hides and displays the terrain.
r – Turns on automatic sphere automatic rotation.
<F5> – Refreshes data.
<ALT>+<F4> – Exits the application.
You can use the following mouse functions to control your Barracuda Earth view:
Mouse Wheel – Zooms in/out.
Right Mouse and Move – Moves the sphere.
Left Mouse and Move – Rotates the sphere.
Clicking on a system – Opens a window that displays additional information about the firewall.
Viewing System and VPN Statuses
In Barracuda Earth, you can determine the status of a firewall or a VPN tunnel by its color.
System Status
Blue

–

Ready
Blinking Green to Red

–

Warning
Red

–

Error
VPN Tunnel Status
Green

–

Active
Gray

–

Disabled
Red

–

Error
Yellow

–

Multiple tunnels - not all are active.