Barracuda IoT Connect connects your on-premises Barracuda Secure Connector to a Secure Access Controller in the public cloud. Both the Secure Connector and the Secure Access Controller are managed by a Firewall Control Center in the public cloud. Barracuda IoT Connect fully automates the deployment of the Control Center and the Secure Access Controller, and allows all Secure Connector devices that are linked to your account to receive their configuration through Zero Touch Deployment (ZTD). After the Secure Connector devices receive their configuration from the ZTD service, they automatically connect to your IoT infrastructure in the cloud using the Barracuda proprietary VPN protocol TINA. Barracuda IoT Connect offers an easy-to-use web interface for deployment, status overview, and configuration purposes. All devices can be accessed via the web interface and Barracuda Firewall Admin. This solution is available in both Amazon AWS and Microsoft Azure. 

The Barracuda Secure Connector offers large-scale remote access capabilities. It enables an ever-growing number of IoT devices and micro-networks to securely connect to your data center. In the scenario above, a large number of small Secure Connector appliances connect via TINA VPN to their Secure Access Controller (VACC). The VACC forwards the management traffic to the Firewall Control Center, whereas the data traffic is directly forwarded to the customer's data center in the public cloud (or any other place specified by the customer). All Barracuda devices involved act only as carrier. The data is directly moved to a specified destination where the customer must process it. In other words, Barracuda does not process or save the data traffic in any way; it simply transfers data from the Secure Connector to the specified destination. 
The web interface provides a status overview and lets you perform various configuration tasks, such as deploying Secure Connectors via self-created templates.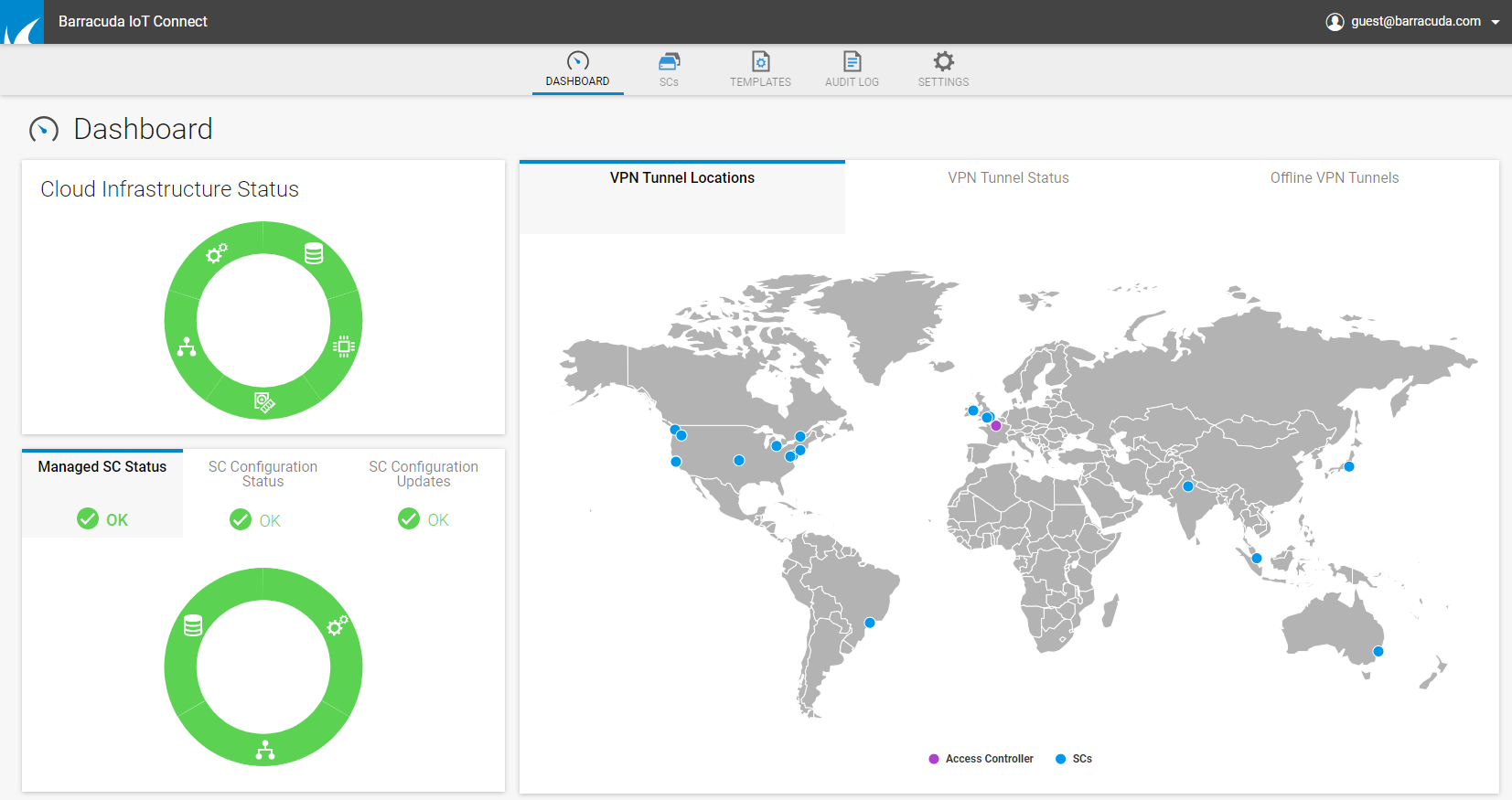 Further Information