Barracuda Firewall Admin
After updating a system, you must also download Firewall Admin with the same version. Firewall Admin is backward-compatible. That means you can manage 7.x and 8.x F-Series Firewalls and Control Centers with Firewall Admin 8.x.
New Network Object "VPN Next Hop IPs"
Unlike firewalls that are running with a fresh 8.0.2 installation, upgraded boxes do not contain the new network object *VPN Next Hop IPs*.
Migration Path to 8.0.2
You can upgrade to firmware 8.0.2 from the following firmware versions.
Current Version

Target Version 8.0.2

Follow Migration Instructions
7.0.0 - 7.0.4

Yes

 

 

7.1.0 EA - 7.1.5
Yes
7.2.0 - 7.2.5

Yes
8.0.0
Yes
8.0.1
Yes
Migrating from 8.0.1 to 8.0.2
Update List of DYNAMIC Network Objects
In order to update the DYNAMIC object list, the network object VPN Next Hop IPs must be copied from the default set. This is done as follows:
Log into your firewall.
In the configuration tree, expand the node Box > Infrastructure Services.
Right-click Host Firewall Rules.
Click Lock.
Right-click Host Firewall Rules.
From the list, select Copy from Default.
Send Changes / Activate.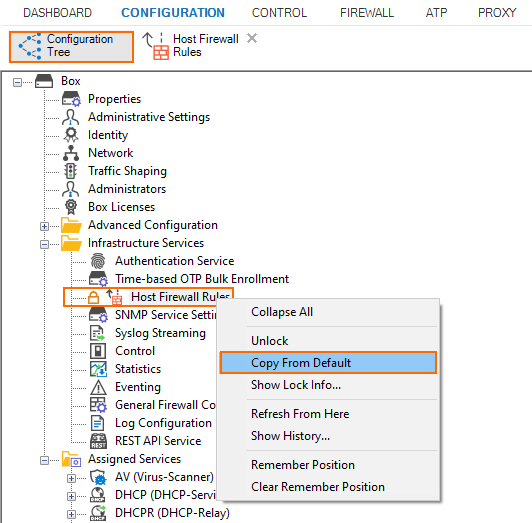 This measurement will update the following:
The list of DYNAMIC network objects at Box > Infrastructure Services > Host Firewall Rules > Networks:

The Host Firewall ruleset: