The Licenses page lets you view the license status of your Barracuda CloudGen Firewall. To access the Licenses page, open the CONTROL tab and click the Licenses icon in the ribbon bar.

ACTIVE LICENSES
In the Active Licenses table, all active licenses are listed.

Information on each module is organized in the following columns:
Name/Module –

The module name.

License –

The license number.

Expires – T

he license expiration date and time

.
Host ID – T

he

hardware ID the license is attached to.
Status – The status of the license.
To open the license configuration, double-click it. For more information, see How to License a CloudGen Firewall.
To see what services are covered by the license, click the + icon to the left of the green check mark. This expands the license entry and shows details on the license module.

License Values
The License Values section displays details for your license, such as your product model, appliance type, serial number, and number of licensed tunnels.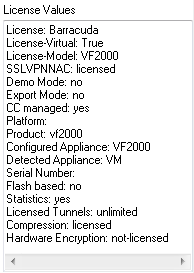 VERSION STATUS
In the Version Status table, you can view the version, build date, and status of the installed Barracuda Networks software modules.


Information on each module is organized in the following columns:
Module – The module name.
Type – The type of module.
Version

– The version of the module.

Status – The status of the module, which can be any of the following:


Latest Kernel – The latest NGFW OS-compiled kernel.
Clean Release – Release version number/binary match.
Dirty Release – Release version number/binary mismatch.
No License Found – No license found for this module.
Not Used – This module is not used.

Comment – Any additional comments.
To view more detailed information about an entry, double-click it.
Selecting Categories for Display in the Version Status Table

You can customize the categories of the columns shown in the VERSION STATUS table.

To customize the categories:
Right-click inside of the display area of the VERSION STATUS table.
In the pop-up menu, click on Select Columns....
From the Available Columns table, select the category that you want to be displayed in the table.

Click on the > button to move the information field from the column Available Columns to the Current Columns. Entries in the table Current Columns will be displayed in the list order. Click on < to remove the category from the values to be displayed.
To the apply changes, click Close.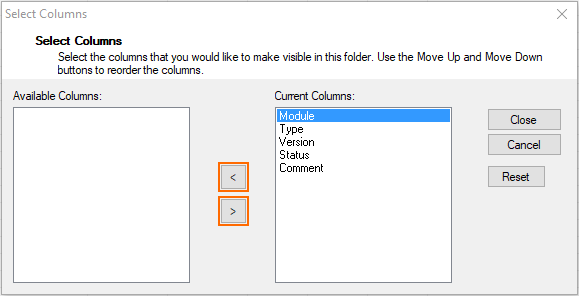 Reordering Columns in the VERSION STATUS Table
To reorder the columns in the process table, drag and drop the column header to your desired position.
HOST IDs
The Host IDs section lists the hardware IDs that the node-locked licenses can be attached to.