License and activate the Access Controller on the Firewall Control Center Licensing page. Secure Connector pool licenses are checked and verified on the Control Center, assigning a license to an Access Controller is optional.
Step 1. License and Activate the Access Controller
License the Access Controller on the Control Center. The licenses are automatically downloaded and installed. For more information, see How to Assign and Activate Single Licenses on a Control Center.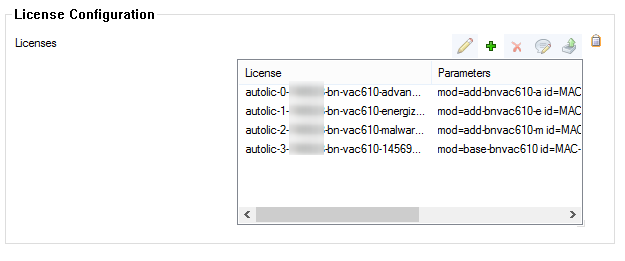 On your Access Controller, go to CONTROL > Licenses or CONFIGURATION > Configuration Tree > Box > Licenses to verify that the licenses are installed.
Step 2. Import the Secure Connector Pool License
Import and activate the Secure Connector Energize Updates (EU) pool license. 
Log into the Control Center.
Go to CONTROL > Licensing.
Right-click in the Pool Licenses section and select Import Pool License from the context menu. The Activate Pool License window opens. 

Enter the Secure Connector Energize Updates license Token.
From the Filter list, select All.
From the Product list, select your Access Controller model: VACC400, VACC610, or VACC820. 

Click OK. 

Fill in the Activation Form. Wait for the license to be activated and downloaded.
Step 3. (Optional) Assign the Secure Connector Pool License to the Access Controller
Go to your cluster > your Access Controller > Box Licenses. 
Click Lock.
In the Licenses list, click + and select Import from Pool Licenses. The Select Pool Licenses window opens.
Clear the Show only Licenses for VFxxx check box.
Double-click the pool license you installed. 

Click Send Changes and Activate.
The Secure Connector EU pool license is now added to the Access Controller licenses.