The Control Center Sessions page lists open supervising sessions on administered firewalls. To access the Sessions page, click the CONTROL tab and select the Sessions icon. The data displayed on the Sessions page is similar to the information shown on each CloudGen Firewall. For more information, see: Sessions Page.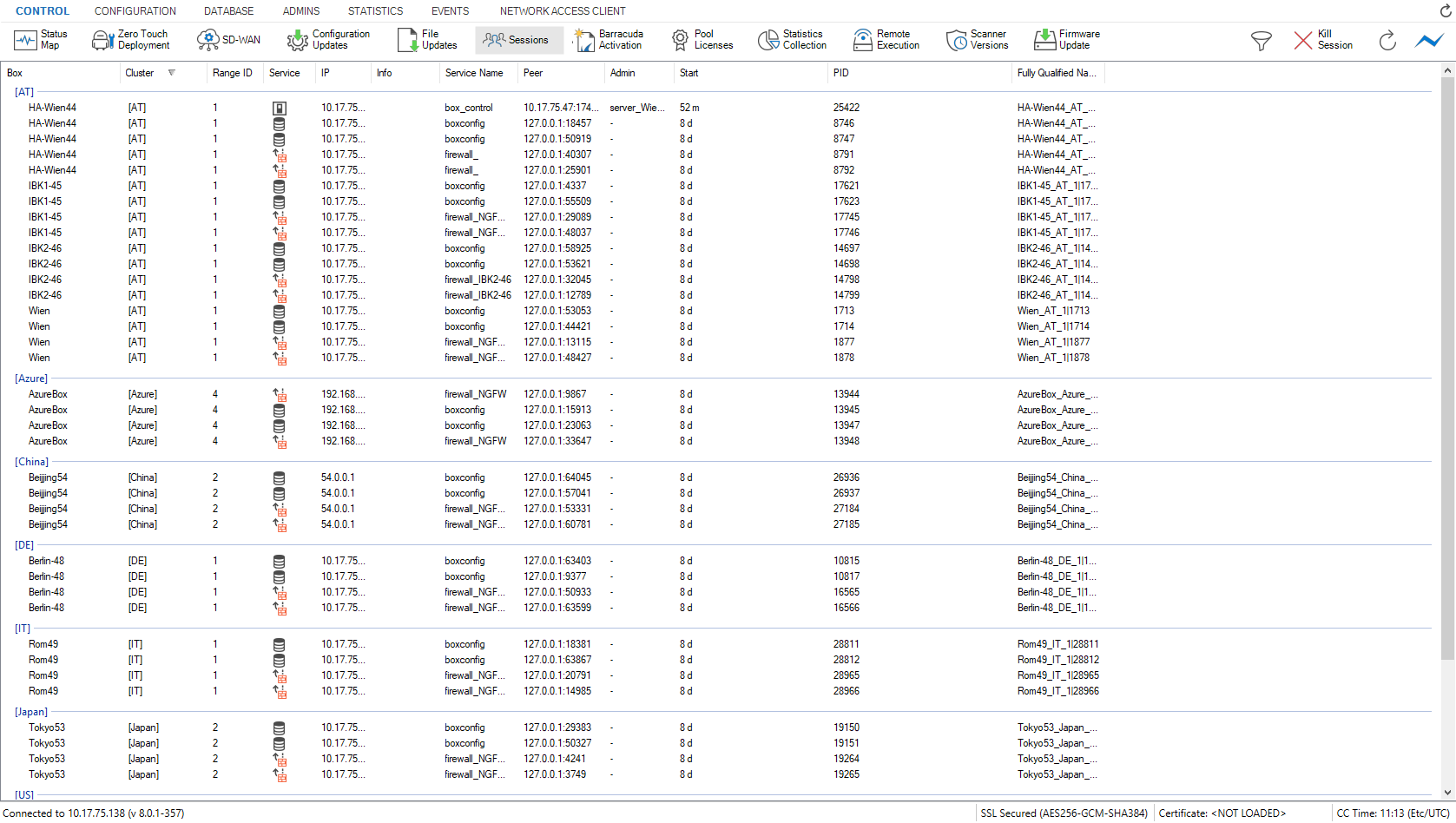 On the Sessions page, the information is divided into the following columns:
Box – The name of the CloudGen Firewall.
Cluster – The name of the cluster the box resides in.
Range ID – The name of the range that cluster and box belong to.
Service – The following icons describe the service responsible for the session:

Firewall – Firewall control session (Service firewall_).
User Login – Login session.
Blue Firewall Locked – VPN session (Service VPN-Service_*vpn).
Clock – Log viewer session (Service box_logd).
Stats Green Tick – Statistics viewer session (Service box_qstatd).
Red Circle Square – Box control session (Service box_control).
Clog Wheel – Firewall Admin session (Service phiona).
Clog Wheel – Indicates a sync operation.

IP – The IP address of the firewall.
Info – The optional box description as inserted into the Description field of the Box Config file.
Service Name – The name of the service that has been accessed.
Peer – The IP address from where the session was started.
Admin – The name of the administrative account that has logged in.
Start – The period that has passed since the session started.
PID – The internal, unique process ID.
Fully Qualified Name – The full name of the unit.
Double-clicking an entry opens the Detail window summarizing all available information regarding the specific session.
Filter Section
To access the filter section, click the filter icon (Show) on the top right of the page. Here, you can filter the list entries by box, cluster, range ID, or by other information. The filter is applied as soon as you click the list.  

To remove filter settings, click the Reset (red cross) icon. To hide the filter, click the filter icon (Hide) on the top right of the page.
Context Menu
Right-clicking on a session opens the context menu, which provides the following options:
Refresh – Refreshes the session display.
Kill Session – Terminates the selected session.
For more information on the standard context menu, see Barracuda Firewall Admin.