After purchasing a backup appliance, the appliance displays on the View Purchased Backup Appliances page. You need to either assign the appliance to a subpartner and/or activate the appliance to an account to use it.
When the appliance is activated, it is initially in an activating state for a few minutes before activation.
For more information, see https://www.barracuda.com/products/backup.
The More Services option on the ECHOplatform ribbon lets you access the Barracuda Backup Appliances page.

The View Purchased Backup Appliances Page
On this page, you can do the following: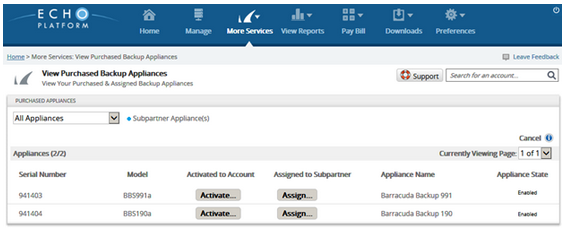 View purchased Backup Appliances
View information to cancel services
Assign Backup Appliances
A blue dot in the Serial Number column indicates that an appliance is assigned to a subpartner.