On the Backup Select page, you can view your selections with the All Selected Item pop-up. This feature allows you to navigate to your backup selections with a display that mimics the Windows interface.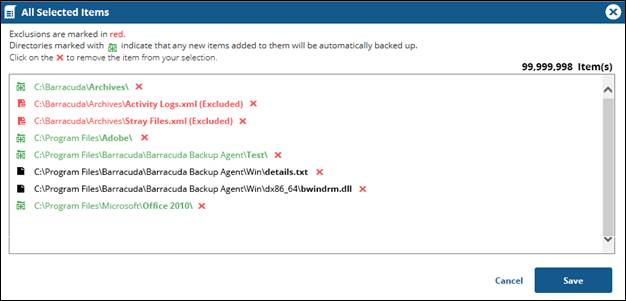 The display includes the following features:
Green text indicates that new items added to the folders are automatically backed up.
Black text indicates file items that are automatically backed up.
Red text indicates items that are excluded from the backup.
A count of the selected items appears at the upper right of the list and decrements in real-time to match the number of selected items.
Viewing All Selected Items
To view all selected items, perform the following steps.
On the Files and Folders Selection page, click the View All Selected Items button located above the upper-right section of the selection panel, as shown below.


The pop-up displays all items you selected, as shown in the following example.



Click the remove  icon to remove items from your selection.

Click the Save button to apply changes made in the pop-up.

Clicking Cancel ignores changes made in the pop-up list and returns you to the Selection page.