The Basic section provides important status information for Barracuda Firewall Insights, such as system health and used resources. Based on this information, you can allocate more resources, for example, when there is a high system load or the storage is almost full. This information also helps you to understand if new devices can be connected, if reporting can be enhanced, if log retention periods can be extended, and what steps you must take to perform such changes. You can configure role-based user access using LDAP and assign permissions for Firewall Insights and connected devices. In addition, basic configuration tasks such as network settings, password change, NTP settings, and connected devices, can be performed via the Basic child tabs (IP Configuration and Administration).
System
You can view the status of your Barracuda Firewall Insights at BASIC > General.

This page shows you the following important information:
Uptime [dd hh mm]
System load
Memory usage in percent
Used storage

in percent

Subscription status
Connected devices
For detailed information about the system status, see General.
Network Configuration
Go to BASIC > IP Configuration to set up the network configuration of Firewall Insights.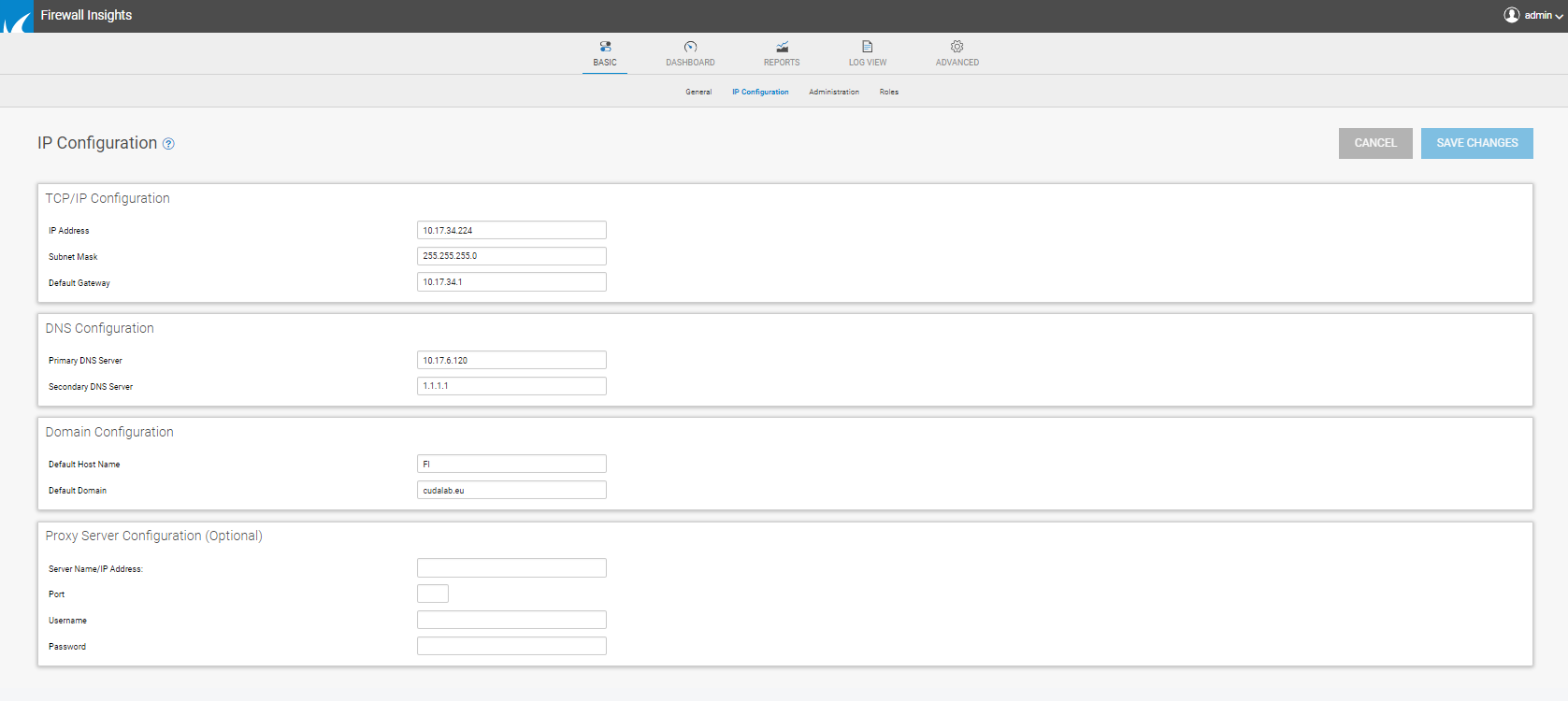 You can enter the following information on this page:
IP address
Subnet mask
Default gateway
Primary DNS
Secondary DNS
Proxy settings
To configure the network settings above, see IP Configuration.
Administration
To perform basic administration tasks, go to BASIC > Administration.
This page shows you the following:
Password change
Email notification
Time settings
NTP server
Web interface settings
Connected devices
System management
Follow the instructions in Administration to perform the administration tasks shown above.
Role-Based Access
To create roles and assign permissions to user groups, go to BASIC > Roles.
With role-based access configured, users can access Firewall Insights menu items and manage connected firewalls according to permissions defined in roles linked to their LDAP groups.
For information on how to configure role-based access using LDAP, see Administration and Roles.
Further Information
See the guides below for detailed information: