The Barracuda CloudGen Firewall creates log files for the Firewall Policy Manager if configured to do so. Logging is processed according to system and service settings. Log data related to the Firewall Policy Manager is stored in a box folder and can be accessed through the log tree on the LOGS page. The log file can also be found in /var/phion/logs, named box_FPM_AppLog.log on the box. For information on how to view and filter log file entries, see the Barracuda Firewall Admin LOGS Tab in the CloudGen Firewall documentation.
Access FPM Log Files
To view logs generated by the Firewall Policy Manager:
Log into Firewall Admin.
Click the Logs tab.
In the log tree on the left, expand Box.
Expand the FPM folder. You can access the following logs:

AppLog – Application
Auth – User login
Backup – Backup details
BoxApi – Internal API access
Email – Notifications
Router – Internal web activity
Scheduler – Cronjobs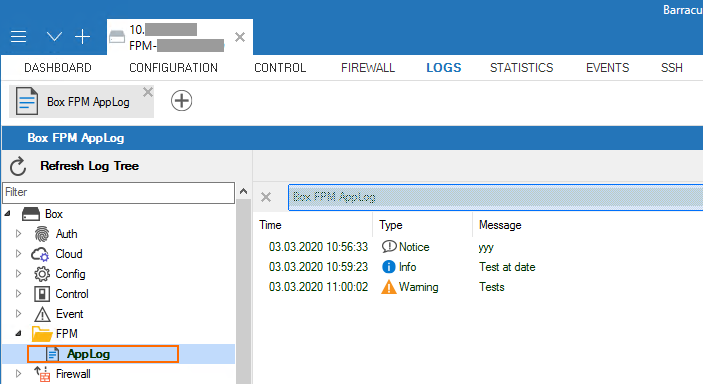 To view detailed entries for a log file, double-click the message in the column.
For information on how to configure log settings on the Barracuda CloudGen Firewall, see Logging and How to Enable the Firewall Audit Log Service in the CloudGen Firewall documentation.