You can create incidents based on emails that users report as suspicious. In this article, instructions for creating an incident are provided first, followed by ways that users can report the emails. 
Creating an Incident from User-Reported Emails
To create an incident from suspicious email reported by users:
Go to Barracuda Forensics & Incident Response, logging into https://forensics.barracudanetworks.com/.
From the menu, select User-Reported Emails.
The User-Reported Emails page displays the suspicious emails that were reported by users. Here, you can view the email and, if warranted, create an incident.
For each email for which you want to create an incident, locate that email in the list, then click Create Incident.
Follow the steps described in Creating an Incident.
A warning symbol 

appears when an email contains a threat Barracuda has detected elsewhere.  Barracuda recommends remediating these emails first.
Reports from the Barracuda Outlook Add-In 
Within the Barracuda Outlook Add-In, users can report suspicious emails, as shown below. This allows end users to be active participants in reporting phishing and spearphishing emails. These reports go to Barracuda Central and Barracuda Forensics & Incident Response. Administrators of Barracuda Forensics & Incident Response can investigate these end-user reported emails, create incidents, and take corrective action.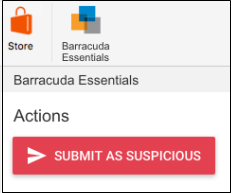 For more information, refer to Barracuda Essentials for Email Security Outlook Add-In. A Barracuda Essentials account is not required for this functionality.
Using a Barracuda Essentials Message Log
Administrators reviewing message logs within Barracuda Email Security Service might notice that there is suspicious email. Messages marked as Incorrectly Delivered are reported both to Barracuda Central and to Barracuda Forensics & Incident Response where they can be investigated.
To report email as incorrectly delivered, select a message in the Message Log and click Report as Incorrectly Delivered above the message preview.
For more information, refer to Understanding the Message Log in the Barracuda Email Security Service documentation.