Introduction
Bridge-Path deployment entails placing the Barracuda Load Balancer inline with your existing IP infrastructure so that it can load balance the Real Servers without changing IP addresses. The LAN interface must be on the same logical switch as the Real Servers. The WAN and LAN interfaces must be on physically separate networks.
If you are considering using a Bridge-Path deployment because you want to avoid changing the IP addresses of your Real Servers, we recommend that you instead use a TCP Proxy Service and Route-Path.
The following table describes the advantages and disadvantages of deploying your Barracuda Load Balancer in Bridge-Path mode:
| Advantages | Disadvantages |
| --- | --- |
| Minimum network changes since the existing IP infrastructure is reused. Real Servers keep their existing IP addresses. | Separate physical networks required for downstream Real Servers. |
| | Less resilient to network misconfigurations. |
| | Improper configuration of a Bridge-Path network may result in a broadcast storm, resulting in network outages. |
Figure 1. Sample Bridge-Path network layout.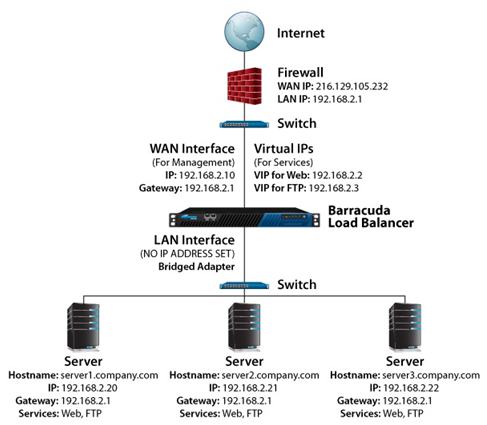 Deploy Bridge-Path
In Bridge-Path mode, the Real Servers must be physically isolated behind the Barracuda Load Balancer. This means that each Real Server is no longer visible on the network if the Barracuda Load Balancer becomes unavailable (a separate switch is required for the Barracuda Load Balancer 440 and below). The Real Servers must be on the same subnet and logical network as the Barracuda Load Balancer, the VIPs, and the rest of the WAN, and they must specify the same gateway as the Barracuda Load Balancer.
Make sure that the Operating Mode of the Barracuda Load Balancer is set to Bridge-Path on the BASIC > IP Configuration page. The LAN IP Address on the same page is not used.