Only one Global Server Load Balancing (GSLB) Controller is active at any one time. However, you can configure multiple GSLB Controllers to increase the availability of your infrastructure in these two ways:
Operate in High Availability mode, in which case all of the GSLB information is copied to the passive system.
Configure one or more other Barracuda Load Balancers (or clustered pairs) as GSLB Controllers where:

Each system or clustered pair has a DNS entry pointing to it. The first available entry is used by a client.
The GSLB configuration is synchronized manually between all GSLB Controllers unless they are passive systems in a cluster.
The following figure shows three clustered pairs of Barracuda Load Balancers, all in different locations. Each of these six Barracuda Load Balancers can act as GSLB Controllers and they share the same GSLB-specific configuration. The GSLB Controllers are listed in the order they are to be used as name servers in the DNS entry for the domain (see Steps to Install GSLB).
Figure 1. Multiple GSLB Controllers.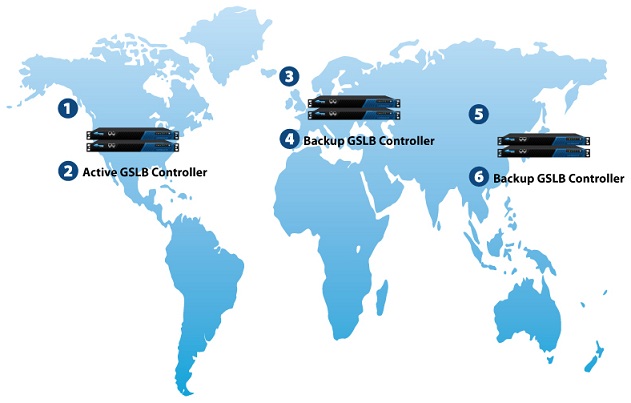 As shown in the diagram, if #1 becomes unavailable, #2 takes over as the GSLB Controller. If both #1 and #2 become unavailable, #3 takes over operation as the GSLB Controller, and so on.
See Installing Global Server Load Balancing for instructions on how to install multiple GSLB Controllers.