To help secure your network, the Intrusion Prevention System (IPS) can automatically receive intrusion prevention and security updates from Barracuda Central, an advanced 24/7 security operations center that works to continuously monitor and block emerging Internet threats.
An alternative solution for intrusion prevention is the Barracuda NG Firewall.
The Intrusion Prevention System protects your load-balanced services from the following common threats:
Denial of Service (DDoS) attacks.
Protocol-specific attacks. The Barracuda Load Balancer contains protocol-specific guards that protect your Real Servers from attacks targeting the SMTP, DNS, and LDAP protocols.
Application-specific attacks. The Barracuda Load Balancer protects common applications that are particularly vulnerable to external attacks. These applications include IIS, Websphere, Cold Fusion, Exchange, and many more.
Operating system-specific attacks. The Barracuda Load Balancer contains Microsoft and UNIX-specific detection capabilities that identify malicious activity against these operating systems.
Exploit signatures are regularly updated at Barracuda Central and are automatically delivered to your Barracuda Load Balancer via Energize Updates. The following figure shows how Barracuda Central provides the latest updates through the Energize Update feature.
Figure 1. Barracuda Energize Updates.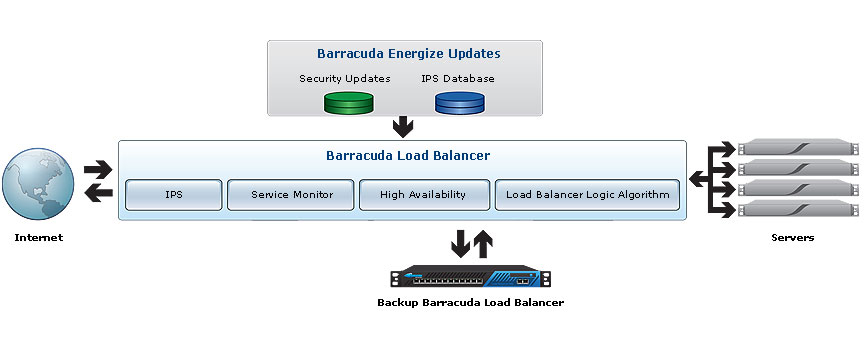 Related Articles