Background
Now you can make note of what assets are available in the site and determine how to organize the devices.
View a Summary of Assets Use the Managed Windows Inventory views to see assets by site. You can get a quick view of the Windows-based hardware, operating systems, applications and other information about each site. You can then drill down to the actual devices to see more detail.
Tip: Assets with the largest numbers are the most likely candidates for monitoring groups.
View Device Details Use the Device Overview to dive into details about a specific device.
Try This—Looking at Assets
Now that you have addressed any onboarding issues, you can have a look at the assets available to group and monitor.
View a summary of assets
In Service Center, click Site Management > Windows Inventory.
Select your site from the dropdown list at the top right of the page.

Browse through the tabs to see the different types of inventory.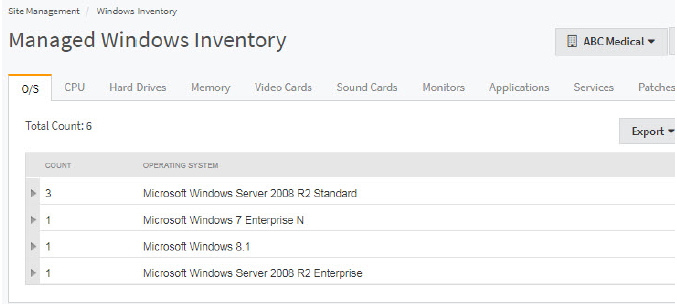 View details about a device
In Service Center, click Status > Devices.
Select your site's name from the Site list.
Click the device name


Click Software on the right sidebar to see the software on this device.
What's Next?
Now that you have an idea of the device and asset inventory, it's time to start monitoring.