Barracuda RMM provides remote monitoring, and management of the entire IT environment of your SMB customers, including virtualized, cloud and software-as-a-service (SaaS) resources, through a single web-based dashboard.
Service Center
Service Center is a powerful, web-based, centralized dashboard that allows you to:
view the asset health and performance data sent by Onsite Manager and Device Manager,
drill down to details as required,
perform rapid remote remediation,
configure advanced services, and
produce a range of useful reports to manage clients' networks.
Onsite Manager
Onsite Manager is installed on a shared server or dedicated server or appliance at your customer's site and used to probe network devices. Onsite Manager discovers all network devices, proactively discovers new devices introduced on the network, monitors the health, availability, and performance of the IT assets, and manages the environment. Onsite Manager's available management features include patch management, remote control to virtually any device, and automated tasks for routine maintenance and remediation of faults or errors. Onsite Manager also receives information sent to it, including SNMP traps, syslog messages, and so on.
Onsite Manager has both a database and an application. Both reside on the same physical server. Onsite Manager uses management protocols to remotely monitor devices, applications, and websites hosted on remote devices.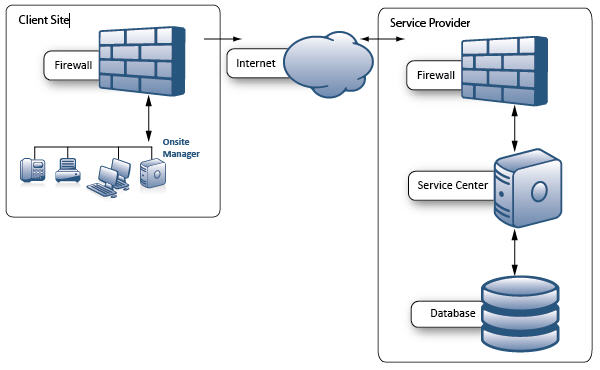 Device Manager
Device Manager is a monitoring agent that is installed on a device and communicates directly with Service Center. Device Manager can be installed on a Windows or a macOS device that is out of reach of Onsite Manager, on a roaming laptop, in an environment that doesn't have a server or peer-to-peer network, at kiosks, and so on.
When setting up a site, you can automatically deploy Device Managers to laptops. Barracuda RMM will detect the operating system and deploy a Device Manager for Windows or a Device Manager for macOS. If you are installing Device Manager onto a device or sending an email link to the device user to download Device Manager, you must select either a Device Manager for Windows or a Device Manager for macOS.
For more information, see Adding Device Managers to a Site.
See