When you first log into Barracuda Sentinel. the Dashboard appears. You can also reach the Dashboard at any time from the menu in the upper left corner of any Barracuda Sentinel page.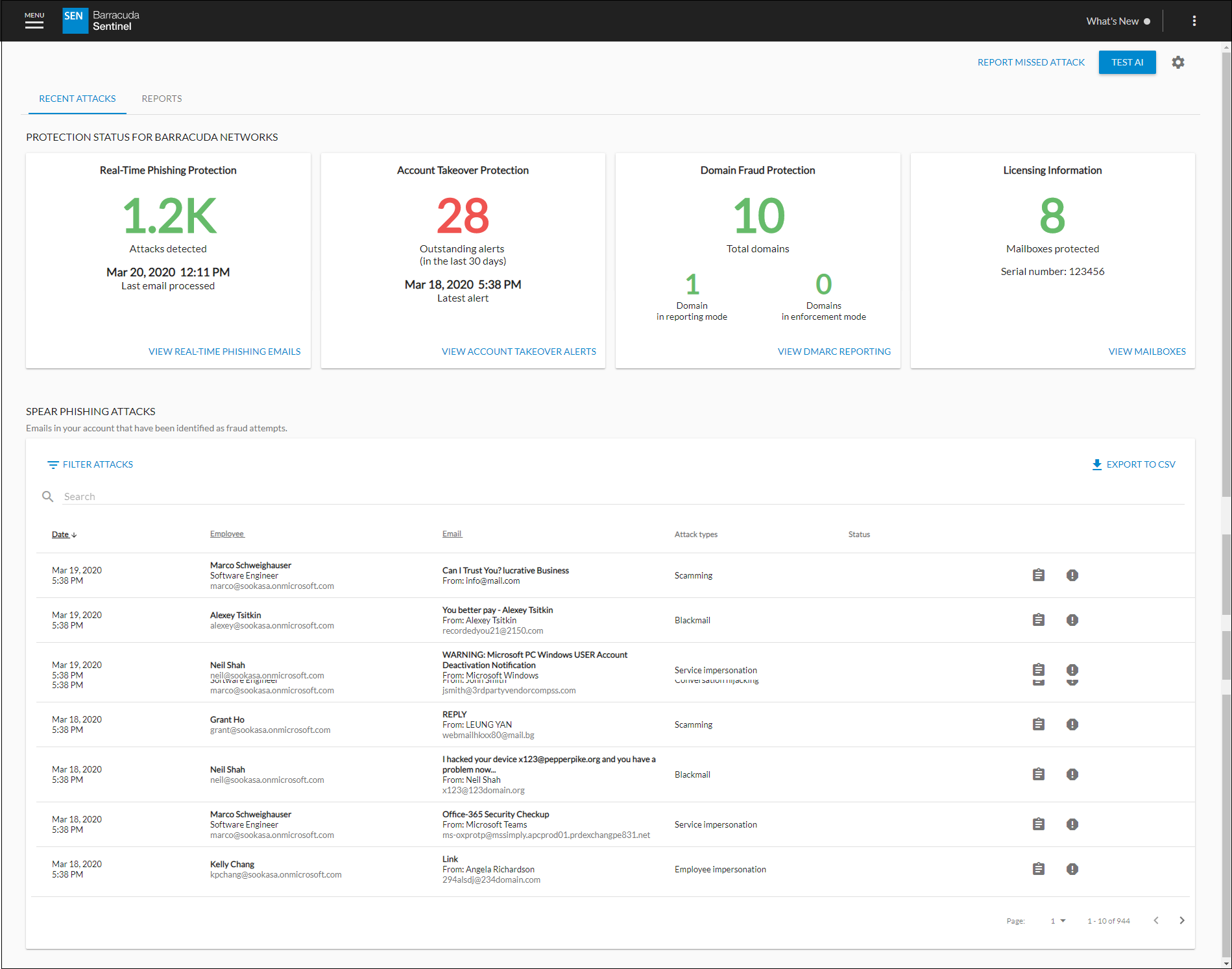 Viewing Protected Mailboxes
In the Licensing Information box, click View Mailboxes. On the Mailboxes protected by Sentinel page, each mailbox – for users and shared – is displayed, along with Display Names.

Each mailbox can have either one or both status values:
Licensed – Whether that mailbox has a Microsoft Exchange license. 
Protected – Whether the mailbox is currently monitored and protected by Barracuda Sentinel.
Viewing Recent Spear Phishing Attacks
The Dashboard displays recent spear phishing attacks.
To locate specific attacks:
Search – Enter all or part of a word in the Search box to find matching incidents.
Filter Attacks – Click to display a list where you can choose to see one of the following types of attacks:

All – All types of attacks. Selected by default.  
Conversation Hijacking – A nefarious actor uses compromised credentials to insert themselves into a legitimate email thread, using a slightly altered domain, and attempt to take over lucrative opportunities, like bank transfers. Domain Hijacking, using a slightly altered Sender domain, as just described, can be a part of a Conversation Hijacking attack.  
Employee impersonations – A nefarious actor is sending email, pretending to a member of your organization.
Extortion – A nefarious actor is demanding money from your organization, threatening that if they do not receive the funds, they will publish information that will be embarrassing to your organization or to people within it.
Service impersonations– A nefarious actor is sending email, pretending to represent a service, like a bank or an internet service provider.
Scamming – A nefarious actor is trying to get money from you or your organization.
For any record, click the details icon

to see more information about it.
Click Search for Similar Messages to locate messages similar to the one you are currently viewing. A new window opens with the Barracuda Forensics & Incident Response wizard, where you can search for these messages. This feature requires Barracuda Forensics & Incident Response.
You can export some or all records to a CSV file. Records that are displayed in the pages of the table are all exported when you click Export to CSV. Filter the results to export fewer records.