The Active Scans page lists each scan that has been defined by name under the associated URL. Click the arrow to the left of the URL name to display or hide the list of scans. From this page you can view the scan date, current status including scan details.
Search for Scans
To refine the list of scans, begin typing in the Search field, or use the navigation tools to move through the list.
Edit a Scan
If the scan is scheduled for a future date and time, click Edit to modify the scan configuration.
Verify a Scan (Awaiting Verification)
If the scan Status displays as Waiting for Verification, an email has been sent to the verification email address configured when the scan was started. If you did not receive this email, click Verify to resend the email or specify a different verification email address. For more information on scan verification, refer to Understanding Verification.
If you specified a Start scan at this time setting when defining the scan configuration, you must verify the scan on the Active Scans page before the scan can run.
Before your scan can be activated, you must verify the scan settings on the Active Scans page. A scan awaiting verification displays a status of Waiting for Verification on the Active Scans page.
Copy a Scan
Click Copy to create a new scan, based on the selected scanner configuration. If you choose, change the name to distinguish them.
For additional information on copying a scan, refer to Finished Scans.
Cancel a Scan
Click Cancel to stop the scan. You can cancel a scan that is scheduled, but is not running yet, or a scan that is actively running. When you cancel a running scan, the scanner will finish its current scenario and abort. Note that this may take a few minutes, depending on the length of the current scenario.
Flag a Scan
Click the flag icon (

) to the left of a scan name to mark it in red (

), so it is easier to find next time you want to view it.
Scan Stages
There are two stages to a scan, Crawling and Scanning.
Crawling Stage
The Crawling stage is the discovery mode. During this stage, the scan examines the entire site map, cataloging all pages, forms, and files on the site. During this phase, the scan time duration bar in the Status field on the Active Scans page displays as indeterminate: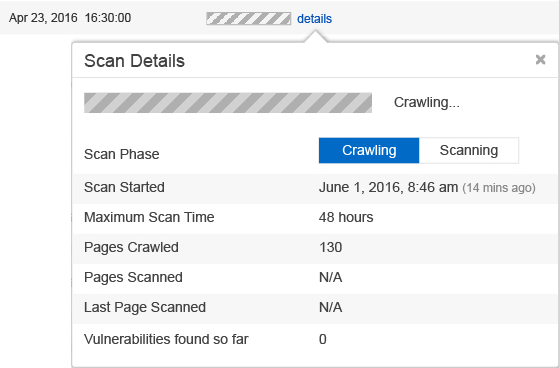 Scanning Stage
Once discovery is complete, the scan begins and the scan time duration bar indicates the scan is in progress: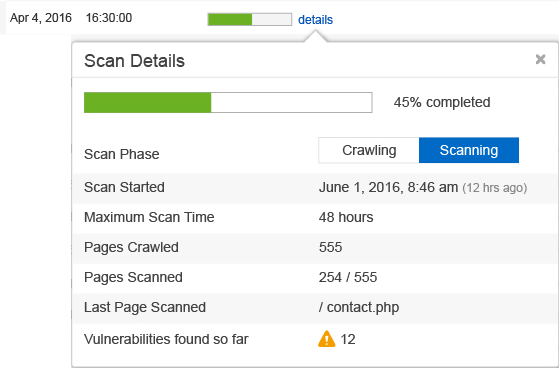 Review vulnerabilities, scans in progress, and finished scans on the Dashboard page.