The SCANNER > Scan Status page lists each scan that is currently running or is scheduled to run in the future. From this page, you can view the scheduled scan date and current status and take action with the scans.
Viewing Scheduled Scans
Click the plus sign to the left of the web application name to display its associated scans.
The Schedule and Details columns display basic information about the scan. To edit the scans, go to the SCANNER > Web Applications page and follow the directions in Actions on Existing Scans and Web Applications.
Scan Status
For scans scheduled to run in the future, the Status column displays the date and time of the next scan.
For scans that are currently running, the Status column displays the Scan Stage and an animated bar showing the scan progress.
Scan Stages
There are two stages to a scan, Crawling and Scanning.
Crawling Stage
The Crawling stage is the discovery mode. During this stage, the scan examines the entire site map, cataloging all pages, forms, and files on the site. During this phase, the scan time duration bar in the Status field on the Active Scans page displays as indeterminate: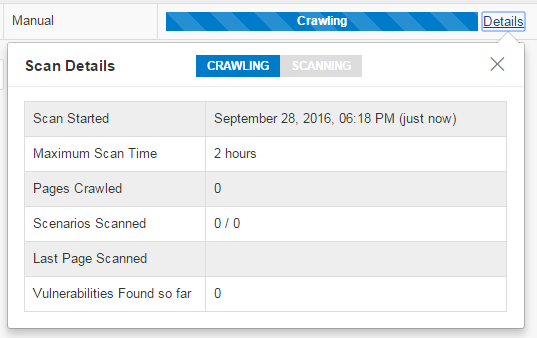 Scanning Stage
After the discovery is complete, the scan begins, and the scan progress indicates the percentage of the scan that has completed: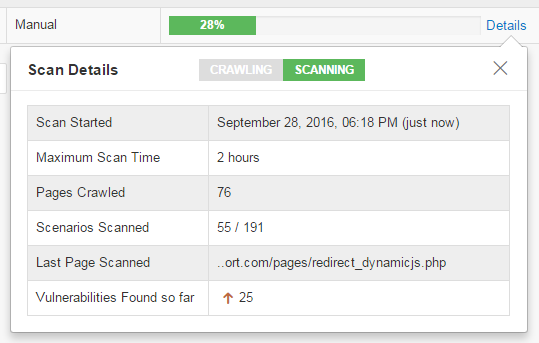 Completed and Cancelled Scans
The Status column displays Finished or Canceled, depending on how the scan ended. Links are available:
See finished scan – Opens the Reports page for that web application. Locate the desired scan, then click View or Download to see the results.
Details 

– Opens the details window, showing basic information about the scan.
Taking Actions with Scans
Run Now
To start a scan immediately, click Run Now.
This action does not affect future scans that are already scheduled. It only adds the scan you just requested.
Skip Occurrence
Click Skip Occurrence to skip a single occurrence of a scheduled scan. The scan time will change to the next scheduled occurrence. For example, if you skip a weekly scan, it will run the following week.
Cancel a Scan
Click Cancel to stop the scan. You can cancel a scan that is scheduled, but is not running yet, or a scan that is actively running. When you cancel a running scan, the scanner finishes its current scenario and aborts. Note that this might take a few minutes, depending on the length of the current scenario.
Refer to Actions on Existing Scans and Web Applications for additional actions you can take.