Working with Languages
For your campaign, select the content you want to use – in the language you want to use – from the Content Center.
You can also create your own content in whichever languages you choose.
The Content Center includes many templates and landing pages in various languages aside from English, including:
Arabic
Chinese – Simplified and Traditional
Danish
Dutch
Finnish
French – Canadian and European
German
Indonesian

Italian
Japanese
Norwegian
Polish
Portuguese – Brazilian and European
Spanish – European and Neutral
Swedish
Turkish
Email templates include top local brands and services in both the local language(s) and English – from Peru to Indonesia to Norway. 
In addition, the following foundation materials are available in most of the languages listed above:
A101: Awareness Training. Includes Cyberattacks; Human Factor; Passwords; Social Engineering; Mobile Device Security; Incident Response
P101: Phishing Training. Includes What is Phishing; Types of Phishing; Understanding URLs; Spotting Phishing Scams (see downloads below)
Use the Filter in the left panel of the Content Center to search for content in a certain spoken and/or written language. In this image, the spoken language filter is set for Dutch and displays training templates created in the Dutch language.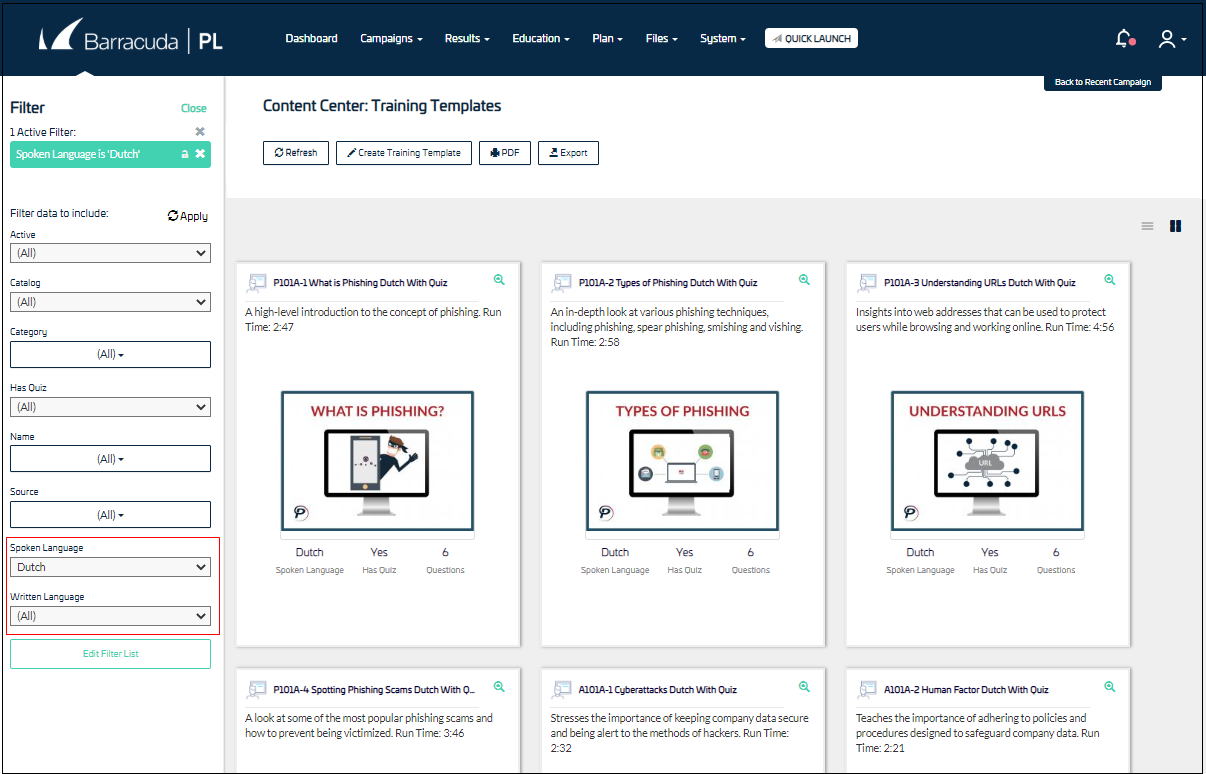 Localization Samples
This section enables you to preview P101: Phishing Training courses in some of the more frequently requested languages. Note that this content is also available in the Content Center, along with the P101 courses in numerous other languages.
List of Training Modules and Languages
All currently available training modules, along with test questions and answers, are available in this list .